Full Moon at 11 VIRGO-Pisces 23, March 1, 2018, 7:51pm EST, 4:51PM PST
March 2, 12:51am GMT, 11:51am AEDT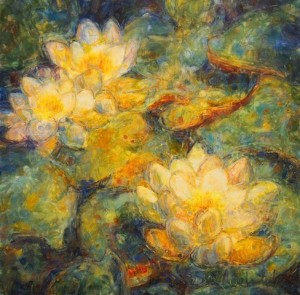 Image: "Merge," by Susan Wahlrab, varnished watercolor on archival clayboard. See more of her extraordinary, original works at susanwahlrab.com. If you are in Vermont or Maine, her new work opens at the West Branch Gallery in Stowe, Vermont on March 24 and in The Choice Show at Maine Art Kennebunk on June 9 and Maine Art Shows, July 21.
This Full Moon in earth sign Virgo is a form of prayer to us from Earth, Mother Nature, to realign ourselves with spiritual, galactic frequencies that are showering down through interstellar space. Humanity serves by quietly and consciously connecting Heaven and Earth. We each have our gift to give.
The Full Moon in Virgo is reflecting the Sun and a host of planets across the sky in Pisces. Neptune rules in the Piscean seas, close to the Sun on this Full Moon. He wields his trident, stirring up choppy waters, raising foggy mist and veiled illusions, as well as inspiring whispers from angelic realms that invite us to new levels of perception more from heart than head. We can't believe all that we hear of the spoken word. Everyone has an agenda, conscious or not. What is yours? What does your seeking heart and soul yearn for?
For some, this Full Moon may come in the guise of bodily symptoms of discomfort or anxiety, prompting shifts in diet, schedule or work as we seek shelter and peace amidst stormy waters. Do you need a nap or daytime rest for a peaceful moment of communion with your spirit? Our bodies are the first port of call for our vulnerable sensitivities when we are not quite sure of our hold on reality, lately so fluid, flexible and flummoxing.
Therein lies the key question: what is reality?
If, as shamans say, "The world is as we dream it," then we are the Dreamers, called to Earth to walk the Beauty Path, to bring a beautiful dream into being.
The level of chaos we witness in the world now is calling forth a huge desire for this Big Dream. Do you hear its music?
Along with Sun/ Neptune, we have a closely clustered Mercury, Venus and Chiron in Pisces. We are emotionally stirred up, longing for we know not what, as if "it can't go on like this." The answer is not outside in the global chaos, but within our hearts and souls. Calm your stormy internal seas, find an anchor line that steadies your ship: "take this sinking boat and point it home."
Musical interlude:"Falling Slowly," Oscar-winning song from the movie, "Once."
Chiron indicates a kind of resistance, wound, or blockage relieved only by some alternative, holistic, paradigm shift. Whatever the collective longing, we each bring this back home to our own experience, turning ourselves inside out to express more of who we truly are. With Mercury and Venus close to Chiron, the shift is in both head and heart, as we rinse away doubt, discouragement and any other mental-emotional discomforts that are getting us off track. Thus we open a clear channel. Make your contribution count, like a sunny smile on a cloudy day. The weather will inevitably change with the seasons. This is an opportunity to rise to.
"Those who choose their destiny consciously will be the heroes, the pioneers, the midwives, and the mothers of the future. "—Alberto Villoldo
Jupiter is a strong influence, diving down in Scorpio to secure that we deeply digest and embed into the organic wisdom of our bodies all new insights from Uranus in Aries and proceed with confident motivation from Mars in Sagittarius. Oxygenate your body with inspiration, enthusiasm and exercise. Take a plunge in a new direction. Dare to think differently. Sweep away doubts and let the game begin. There is a level of genius beneath the surface debris and confusion. Can you feel it?
In small town Montpelier last Saturday around 2pm, church bells began to ring with "Joy to the World." Someone was practicing carillons. I thought of this song solely as a Christmas song, but at that moment, realized it is good for any season, including this Full Moon!
"Joy to the World..
Let Heaven and Nature sing…
.fields and floods, rocks, hills and plains
Repeat the sounding joy,
Repeat the sounding joy…
And wonders of His love,
And wonders, wonders…."
******************************