New Moon @ 15 Aquarius 45
February 4, 4:04pm EST, 1:04pm PST, 9:04pm GMT
February 5, 8:10am AEDT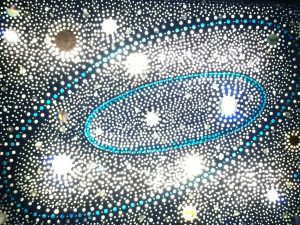 Image: Section of "La Ciudad Hidroespacial" ("The Hydrospatial City"), installation by Gyula Kosice, created from acrylic, paint, metal and light, exhibition at Palm Springs Art Museum, CA, 2017. Photo by author.
With courage in our hearts, we raise our arms to welcome a shimmering cosmic influx that changes everything. This electric Aquarian New Moon follows-up the powerful portal of the January 20-21 Total Super Moon Eclipse (doesn't that seem SO long ago?!). It serves asa harbinger to unexpected developments that will continue to ripple through our solar system, planet Earth and our psychosomatic fields for months to come. Some say this is an unprecedented game-changer for consciousness and life on our planet. Sounds dramatic, but what if it is true? Do you imagine it could be possible? What do you imagine it might be like? Are you courageous enough let your heart do the imagining?
This New Moon is fueled by a Mars/ Uranus conjunction— explosive! in Aries —indicating action on several levels. Mars pushes us further through the eclipse doorway from two weeks ago. The presence of dwarf planet Eris pushes the edge even further, with her radical daring to stir things up, shake, rattle and roll. Some will be taken by surprise, even shocked. Others are restless for change; some cause provocation; some may lash out from frustration. Many move forward, energized and positive-minded. How will you respond?
Saturn and Pluto are moving toward their inevitable rapprochement in earth sign Capricorn, with potent impact on our collective destiny. Gaia Earth is evolving in the cosmic flow. We need to follow her lead and take practical action to conserve resources and attend to basics. There is a lot going on behind the scenes and under the surface that we will not see. Earthquakes and volcanic activity are likely to be heightened on physical, mental and emotional levels, shaking up our world. What kind of change do you want? Empower it. Venus just entered Capricorn to add longterm value.This is an opportune moment, with boundless potential for grace and growth.
If we are listening, we can receive the guidance of Asteroid Pallas (Athena) holding high her Libran Scales of Justice, and implementing her tactical wisdom to fight injustice and open our awareness for peace. She has allies. Flanking the New Moon, Mercury in Aquarius offers a broad perspective, even more spacious partnered with Black Moon Lilith and her experiential wisdom transmission. A useful perspective: It Is As It Is. Take it from there. Arguing with events because they don't match your expectations or beliefs will only create anxiety. Mental distortions and cognitive dissociation are often caused because we are too much in our heads.
One of my (multiple) Aquarian friends recently experienced the death of her mother. The death was anticipated, and she thought she knew how it would be, but the experience was not at all what she expected. One can theorize all one wants about how things will unfold or feel, but life doesn't often match our ideas. Thank goodness!
How open are you to new ideas and, most of all, to how you are feeling in each moment? Let this New Moon cycle take you into new levels of what is possible within you. Witness the mental tricks your own mind throws at you, obfuscating what is right in front of you. Let the cosmic glitter sparkle through your energy body and into your bloodstream with a shimmering radiance that dis-covers darkness.  Find your way to let go and push out all that holds you back.
On the eve of the next Full Moon, February 19, as the Sun enters Pisces, Chiron again moves across the Zodiac zero point into Aries. Last April, Chiron entered Aries for a few months (into September) for a heads up. What did you notice? Since returning to Pisces for the last few months, a lot of water has washed away under Chiron's bridge, bringing much loss for many of us. We are more ready and laundry-fresh, crisp and clean, to enter the new heightened field of energy that vibrates with clarity.  Find your own zero point and plug in. Align with cosmic companions with whom you are in most alignment, true friends that embrace you for who you are, no matter the "small stuff," those with whom you can shine. Co-creation is the name of the game. Play your part. Shine on! Sparkle with the incoming cosmic glitter.
This game of life is serious. Can we make light of it?
What a contribution that would be!
"When you follow the path of the Earthkeepers with sincere intention and an open heart, you'll find yourself in the company of like-minded individuals who strive to live by ethics and vision."
─Alberto Villoldo, PhD
*********************************