July 2, 2019 @ 10 Cancer 383:17pm EDT, 12:17pm PDT, 7:17pm GMT,
July 3, 5:17am AEST
Take note: Cosmic Inspiration Radio is live!!!
streaming and archived Thursdays, 4-5pm ET— on WGDR, org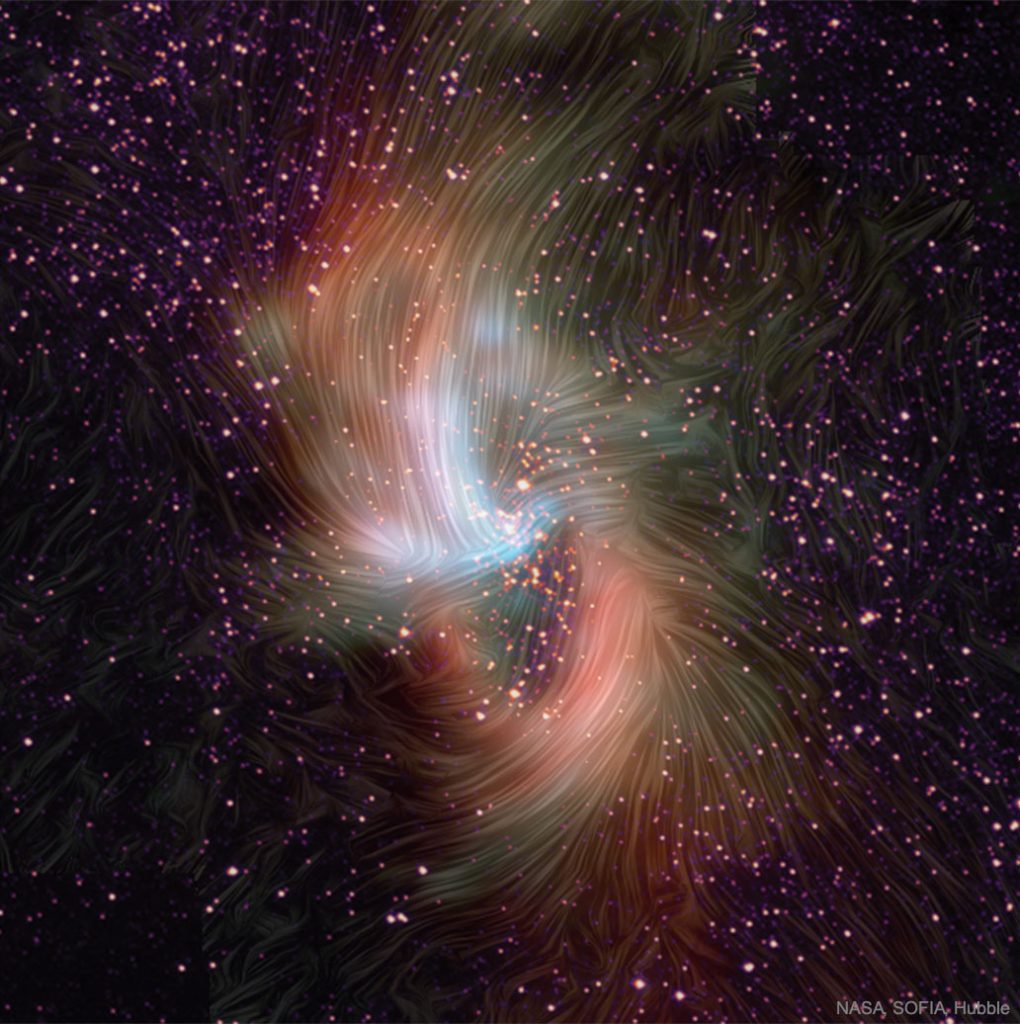 Image: Our galaxy's magnetic center, by NASA's SOFIA and Hubble. An interesting type of fireworks! This image, "appearing perhaps like a surreal mashup of impasto art and gravitational astrophysics," shows details in "the magnetic field in a around a dusty ring surrounding Sagittarius A, the black hole in our Milky Way's center." I feel, somehow, that eclipses may tap this center, inviting input into our system. Read full NASA description.
July 2019 Overview
In July we have two eclipses.A total solar eclipse on the 2nd, is a seasonal highlight, the one first since August 2017. The Full Moon eclipse on the 16this a partial eclipse with a bittersweet, urgent yet nurturing energy to guide us toward necessary and timely changes. 
Mercury retrograde starting on the 7th gives us a good three weeks to work with this input, picking up some dropped stitches, as in knitting. We don't want gaping holes in the fabric of our lives. We may not have had time to take care of everything in the made dash of seasonal activities and unexpected developments. Big changes are in motion. Take needed time now to shore up the homestead and family circle. Contemplate advantageous changes are needed now to grow and prosper. 
On the 31st, Mercury turns forward under a second, celebratory New Moon, turning the page into August. If a second Full Moon in one month is a Blue Moon, what color is a second New Moon? Let's make it a personal choice.
JULY 2 is Total Solar Eclipse at 10-11 degrees Cancer. We haven't had such a one since August 2017. We have an ECLIPSE SEASON every 6 months, but not every time is the eclipse total. Total solar eclipses are the rarest.
Eclipses are power portals that have ripple effects; though not all of the impact is experienced on that very day. Often, though, significant things do take place. The ripple effects if a total eclipse last longer. It will be interesting to see what happens that day, that week and onward. 

Let's first consider the Sabian Symbol of the eclipse:
"A Clown is Caricaturing Well-Known Personalities."
Sabian Symbol Queen Lynda Hill writes this in her classic The Sabian Symbols as an Oracle:
"There can be role-playing here, where someone is putting on an archetypal 'face' and performing because one must, for some reason. This can end up obscuring who one truly is on the inside. This can be because it is difficult, or compromising, to let one's real emotions or thoughts be known. Perhaps there are secrets or information that it's best for others not to know. The 'Caricaturing' can take up time whilst things, or conditions, change for the better. However, this Symbol may imply that the situation needs to be less serious…
"Laughter is often said to be the best medicine and 'many things said in jest' may be a useful thing to remember as you relax and get things back on the right track…This can also be about the need to see things objectively or from someone else's point of view What is really behind the facial expressions and masks?"
Note: We can always count on Lynda Hill for profound Sabian connections @ https://sabiansymbols.com. You can also ask the Sabian oracle a personal question!
Along this line, we find Venus at the far edge of trickster sign Gemini in this eclipse, ready to head across the Cancer Solstice point within 24 hours, adding a light, playful note, much needed for many. Venus is a good ally when things feel ultra-serious at moments of strong impact—like now. Play with your best face showing.
Mercury is retrogradefrom July 7—31, an interesting complexity of this eclipse season is that. Don't groan! Mercury R can be tricky, but it is a natural occurrence 3x/years. We need such a pause, a time to go back over things: to RE THINK. RE =REtrograde.
Mercury stations (stops) turning retrograde conjunct Mars and squared Uranus, for a rather dynamic, potentially pushy, assertive, if not downright rude and aggressive activation. Time for change, time for action. But can we figure out what is happening, and the proper action (not reaction) to take? Mercury backs off to reposition itself, going back into Cancer, to REconsider, REflection, using caution and taking care. We need this time. Take it for yourself, for smoothing out any ruffled feathers that have been blown in these wild winds of change, to put yourself in a better "mood" or state of being.
This Mercury retrograde, in eclipse season, gives us a good three weeks to work with any new, disconcerting input, to pick up any dropped stitches, as in knitting. We don't want gaping holes in the fabric of our lives. We may not have had time to take care of everything in the mad dash of seasonal activities and unexpected developments. Big changes are in motion. Take needed time now to shore up the homestead and family circle. Contemplate advantageous changes are needed now to grow and prosper. We may be more ready and confident to respond to another call to action as we head into August.
A note to Cancer Suns, Moons or Rising Signs,who are all having quite a month. Cancer is a water sign. Listen to your feelings. This is not a rational process. The USA, with its July 4 birthday, is under the shadow of this eclipse, though not geographically as with the "Great American Eclipse" of August 2017. The heads-up extends to opposite sign Capricorn and also to Libra and Aries, signs activated and questioned by the eclipses and retrograde Mercury. This also has meaning for groups who have:
Saturn in Cancer—1944-1945, 1974 into 1976, 2003 into 2005;
Saturn in Capricorn—1931-1932, 1959-1961, 1989-1999;
Pluto in Cancer— 1914-1939;
Uranus in Cancer—1949-1956;
Uranus in Capricorn—188-1995;
Neptune in Capricorn—1984-1996.
[Other groups with generational planets Uranus, Neptune and Pluto in Libra or Aries are also engaged; not to mention all of you who have other planets in these signs.]
You may be feeling "embattled" or "invited" by the eclipses, perhaps closed in or frustrated by Mercury retrograde. Embrace this time to pull inside, tune in to the invitation of this special celestial choreography, asking for what you need. Maybe you don't know what you need. Maybe it's different than what you want. Sing it! "You can't always get what you want, but you get what you need." Here is a version of that 1969 Rolling Stones classic (wow, 50 years ago! a Chiron return). See 1998 performance version. It is a good theme song for us all to remember this July, a month of Cancer eclipses and Mercury retrograde.  
Be kind to yourself and others. Take the time you need in go back over and tune in to all that you have been experiencing this year. This is a month to feel out the changes in motion and look through this cosmic window to new horizons. Cancer is a gentle and sensitive sign, with that hard, protective crab shell, sidestepping perceived danger and retreating into its hole in the sand. Sometimes Cancer has been pictured as a crayfish or a lobster. I think oyster fits, too, in the way these sea creatures carefully hold and nurture their shining pearls of wisdom, keeping it safe until it is perfectly formed and ready to be shared with those who will value it. "Cast not pearls before swine," cautions the Bible.
If you want a good Cancer star story (from Hindu mythology) for more inspiration, you can listen to my June 27 Cosmic Inspiration Radio show as indicated in the notes below. Or, go to my astro-mythology website page: http://heliastar.com/astro-mythology-mythic-impressions-of-the-zodiac/
The Full Moon follow up to this New Moon Solar Eclipse is a Partial Lunar Eclipse on July 16. A partial eclipse is typically not as strong as a total, but this one is a worthy partner to this month's potent Total Solar Eclipse, as it aligns with the planetary power pair, Saturn and Pluto. This is a game-changer. Saturn will be very close to the eclipsed "crescent" Moon. I'll unpack this more next time.
See you on the other side of this TOTAL SOLAR ECLIPSE!!…..
*****************************************