Full Moon at 6 Cancer-CAPRICORN 28
June 27, 2018, 9:53pm PDT
June 28, 2018, 12:53am EDT, 5:53am BST,
7:53am AEST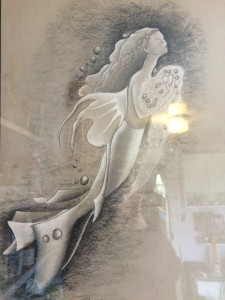 Image: Mermaid drawing by Paula Lamay, photographed (above the bathtub) by author in farmhouse of Aloha Works teacher, healer and reader, Katherine Veilleux, one of the special people in the Vermont's Green Mountains.
FULL MOON IN EARTH SIGN CAPRICORN
Ringed Saturn shapes this Full Moon with crafty skill and a new twist. In Capricorn, its own sign, Saturn rules. The Full Moon stands by to point it out. Best to look for Saturn a day or so before or after the Full Moon, so it shows up more clearly. Remember that the far stars twinkle, our neighborhood planets radiate. Saturn's dramatic rings are tilted toward Earth, making for fabulous viewing through a telescope or even binoculars.
Skywatching is prime this month. Red Mars, turning retrograde in the midst of an unusual dust storm, follows close on Saturn's heels, close to the Moon on the 30th, and increasing in brightness. Venus remains the bright evening star in the west, as Jupiter rises around sunset and ascends through the night.
Full Moon in Capricorn is like a sculptor who frees the form from inside the stone. What is your true shape?
The "new twist" to this Full Moon is the keystone planetoid, Chiron, squaring the Moon and Sun from early Aries. This is a highly activated invitation to meet each moment anew, fresh without any preconceptions. That's a tall order, impulsed by green-lit neural pathways shimmering with cosmic sparkle and heightened charge from plasma streams. Obvious indicators demonstrate that new developments are happening. Our experiences are being shaped in unusual ways, as Mars shifts karmic direction.
As I wrote at the beginning of this Moon cycle two weeks ago:
"The mystery of life is great. Some things just do not make rational sense. Are there other forms of logic?"
Have you been experiencing any especially mind-blowing serendipities/ synchronicities? Like crumbs or feathers on the path, they let us know we are going in the right direction. Some events, like locked gates, let us know that particular path is no longer open to us, or the time is not right. This Full Moon holds such indicators.
Saturn and Chiron impact this Moon strongly by demonstrating how evidently the outline of reality is being redrawn (by whom? are you on the team?)
WATCH FOR MERMAID SIGHTINGS
We can't forget that the Moon is reflecting the Sun in Cancer, a water, mermaid sign. (I have a Cancer Moon so I know, and I have met many other mermaids and mermen.)
The Queen of the Mermaids in the sky! Sweet and salty and strong, Salacia became Neptune's Queen. She, too, squares this Full Moon. She welcomed Chiron into Aries, and now occupies 3-4 degrees of that fire sign. Her fire is seen as the sparkles on the calm, sunlit sea, as if reflecting the stars in the sky. You see her in the shafts of sunlight that penetrate down into the water, rippling and shimmering. Salacia laughs and sings her sweet, seductive song as she plays with dolphins along the Moonlit path on the water. Not simply sweet, she is a little salty, too. She feels things deeply, questioning emotional interplay from a place of steady self-honoring. She knows her worth and keeps her council. You prove yourself with her. These qualities inform her astrological signature. Pay attention.
When Neptune was courting her, she thought the King of the Sea was not being serious, so she went away. Neptune sent a dolphin to convince her that his love was in earnest, then she returned. Neptune is the furthest classical planet, discovered in 1846. Salacia, discovered in 2004, is one of the many newly discovered objects in the remote solar system, most likely a dwarf planet. It orbits farther out than Neptune; her orbit is 271 years, contrasted to Neptune's 165 years. But she periodically comes in closer. Salacia has one moon, Actaea, named for a sea nymph. Apparently Neptune and Salacia had a baby mermaid!
We have a water triangle of planets— Sun/Mercury in Cancer, Neptune in Pisces and Jupiter in Scorpio—flowing under the surface of our experience as a supportive current in the spicy tango of this post Solstice season. Let your mermaid or merman find your wavelength and go with it. Feel how fluid the energy can be when you tune in. Follow the sparkles on Salacia's sunlit sea.
You can listen to a short audio discussion about Salacia with myself and sister astrologer Lalita Karoli at . See more on her FB page.
And, if you haven't already, take a look at my page
THIS IS THE BIG NEWS
Mars just turned retrograde at 10 Aquarius (for the first time since 1971). As it circles back around the Dragon Tail, the South Node karmic point, it's a good time to take some advice from Salacia and retreat into your internal space for self-honoring. Take time to take council with your inner guidance and fan your deepest fires of desire. What is it that your higher Self wants? Take a broader look at your path of destiny. Remember to feel the flow, even while surfacing periodically, like a dolphin, to breathe out and in. We can take this extended opportunity to engage a level of detached perspective that Aquarius offers.
There is so much more to say about this Mars retrograde and the planetary patterns of this season. I am planning to do so. I'll soon be sending out an announcement. Stay tuned.
PS. I was finishing this newsletter to send out and went to a, original, local musical production at the Calais (Vermont) Town Hall. Entitled "Mad as Wind and Sea," it was a deep, funny, touching production that featured "People Fish"— ghostly mermaids and mermen, once human, who perished at sea. I didn't have to wait long for a mermaid sighting! How about you? I'd love to hear your stories.