New Moon Total Solar Eclipse @ 23 Sagittarius 08
December 14, 2020, 11:16am EST/ 8:16am PST, 4:16pm GMT,
December 15, 3:16am AEDT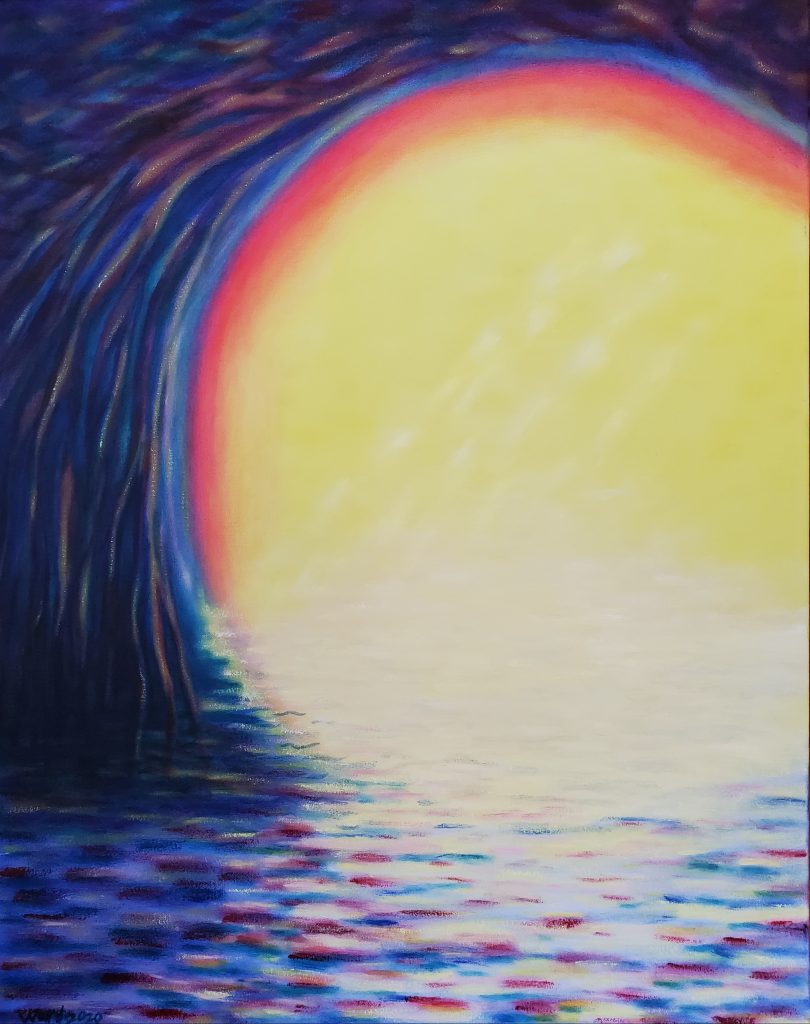 This week is a double power portal during which we are surfing a huge wave of incoming galactic light. These two cosmic events, Eclipse and Solstice, are the fireworks and rainbow at the end of a year of immense change. This rigorous year started with conjunction of Saturn/Pluto that wiped the slate clean of an agenda that began in 1982 at the last conjunction of that power pair. Throughout 2020 we have faced clear indications that we are entering a new phase. Major unexpected developments have 'stopped the world,' pushing us deeper in our own Beings.
In the last few months, we have been asking ourselves what do we want and what don't we want in our lives as we move into a fresh New Year? It's been a long, tough road to make it this far through 2020—and it's not over yet! We are not yet finished creating our new collective vision, our way of moving forward into a new dimension of experience. If you stay centered and clear with yourself, you make a great contribution to lift the pervasive collective confusion, a thick Neptunian fog that distorts our view. This celebratory celestial choreography to end the year is a window through which that fog starts to lift and the light shimmers in the air—
Literally in the air. This portal further opens the Age of air sign Aquarius with the Solstice conjunction of Jupiter/Saturn at that sign's very doorsill, 0 Aquarius 29. Jupiter and Saturn meet up every 20 years, initiating a new cycle of social, cultural experience. This one is extra special, more than another short 20-year cycle. Here are key reasons why:
* Jupiter and Saturn are closer in proximity than in 400 years, so close they may appear almost as one extra radiant star. [Perhaps something like the Star seen in the East by those three stargazing Wise Men way back when? though I would add in Venus to make a planetary trinity for that rare Heavenly moment.]
* For the last 200 years, the Jupiter/Saturn conjunctions have almost exclusively occurred in earth signs, focusing our experience on the practical, material world. This is the first conjunction in air signs, inaugurating a new 200 year cycle focusing on the mental world, on information, perception, perspective, social interactions.
* The last time we began such a 200-year cycle of air sign conjunctions was in the year 1226 (specifically on March 4!). So this is a new 800-year cycle. That era took us from the Middle Ages into the Renaissance. What will our transition be like this time, in this new day and age, this new millennium?
This Total Eclipse at 23+ Sagittarius carries this Sabian Symbol image to inspire us:
24 Sagittarius: A Bluebird, a Sign of Good Luck and Happiness, is Standing at the Door of the House.
What a lovely augur. This total eclipse darkens the Sun and relights it with a good luck sigil. The old story ends; a new story begins.
This total eclipse is like a hugetowering wave, the largest wave in memory. We stand strong and balance on our surfboards, excited to catch that once-in-a-lifetime wave. We head into the tunnel, a curving alive wall of water, riding this powerful phenomenon, having the thrill of our lives. Speeding along under the cresting wave, we suddenly come ashore in the froth of the crashing waters. Where do we land? In the Solstice gateway and an Aquarian portal that leads to a renaissance. Pluto adds more regenerative impetus when it transitions into Aquarius in 2024.
Where does this wave originate? This is a South Node Eclipse, bringing something forward from our deep collective past. The Eclipse degree is close enough to 26 Sagittarius, the Galactic Center degree— a Surging Wave of Invisible Light from the Heart of the Milky Way Galaxy. In addition to the photon waves of higher frequency that have been coming in, perhaps solar flare activity will be heightened as well.
One of the original quantum deities now inhabiting the Kuiper Belt, is sending this wave and riding in with it. Varda Elentari is Star Lady of the Elves, She who shaped the Sun and Moon and blew love songs of light into bubbles of aether, causing them to kindle into stars. Thus the sparkling heavens welcomed the Elves when they first came into their realm. White-robed Varda is their High Angelic Goddess of Grace and Beauty. This ancient and everlasting higher dimensional world is evoked. Varda comes forth to welcome us into the new realm opening on Solstice (watch this website for an upcoming article on Varda).
Use this potent Eclipse of the year to let go of fears and open to the love coming from the Heart of our Galaxy. The old story ends; a new story begins. Here is encouragement from Rudolph Steiner:
Verse For Our Time
We must eradicate from the Soul
All fear and terror of what comes towards man out of the future.
We must acquire serenity
In all feelings and sensations about the future.
We must look forward with absolute equanimity
To everything that may come.
And we must think only that whatever comes
Is given to us by a world-directive full of wisdom.
It is part of what we must learn in this age,
namely, to live out of pure trust,
Without any security in existence.
Trust in the ever present help
Of the spiritual world.
Truly, nothing else will do
If our courage is not to fail us.
And let us seek the awakening from within ourselves
Every morning and every evening.
Yes, the old story ends; a new, essential story begins. Storyteller Clarissa Pinkola Estes encourages us [thank you for sharing, Diane]:
"I hope you will go out and let stories, that is life,
happen to you, and that you will work with these stories…
water them with your blood and tears and your laughter
till they bloom,
till you yourself burst into bloom."
* * * * * * * *