Full Moon @ 22 Leo-AQUARIUS 24August 15, 2019 @ 8:29am EDT, 5:29am PDT, 12:29pm GMT, 10:29pm AEST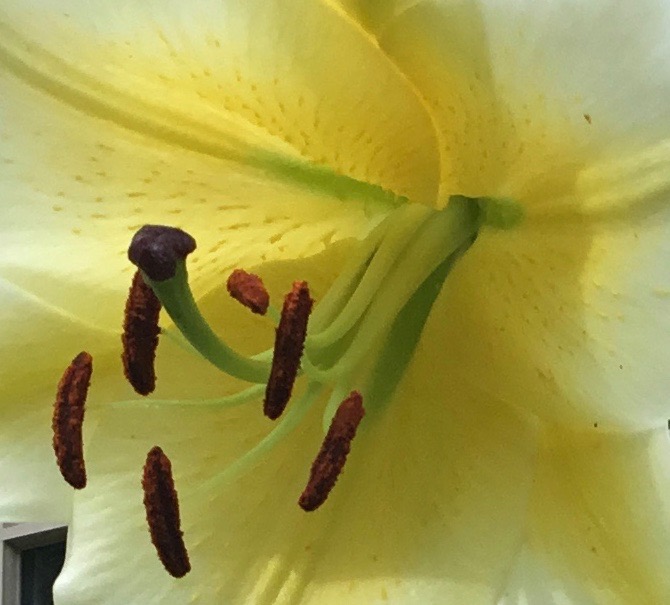 Image: The Glowing Heart of Ieva's Lily, photo by author.
August celebrations continue under this Full Moon in Aquarius/Leo.
I always give the Sun sign with the Full Moon sign, as the Moon is reflecting the Sun, thus highlighting the polarity between the two signs.This can bring out the best and/or the worst, as two opposite signs complement each other or have a tug of war for prominence. A key to the better or worse is the level of self-awareness that each of us is capable of and, particularly under this Full Moon, our emotional intelligence.
The strengthening Venus/Mars pair infuses the already emotional Leo Sun with more desire/delight/demand/dynamism. In Leo, these two personal planets tend to express from a self-oriented point of view—very naturally. We feel a strong desire to express ourselves in this creative sign fueled by the solar life force. We need the light of the Full Aquarian Moon to gain a more impersonal perspective on how we are acting in relation to the greater whole, a more objective view of how we are showing up, how we fit in (or not) with what is going on around us. This Full Moon brings into high definition our sovereign Selfhood and our role in the social context of our lives and our interpretation of the "signs of the times".
Venus looks for what feels satisfying, what makes us smile, what gives personal value to our lives. Goddess Venus is often pictured holding a mirror, reflecting back where in our lives we find beauty, resonance and love—as well as where we are experiencing unhappiness and negative feedback about who we (think we) are.
The Venus/Sun Sabian Symbol @22 Leo gives us this image:
"A Carrier Pigeon Fulfilling Its Mission"
A mission is complete. We have finished a journey with a clear sense of purpose and direction. Something in us knew how to reach our destination, as if we have been pulled there by divine guidance. We have received a meaningful message that takes us where we want to go. What is feeling like this in your life? It may be a subtle sensation of a new calm, a project complete, a new plan crafted, a new way of experiencing time, a heightened perception of beauty in the world, a richer sense of your worthiness. What does this mean for you?
With Venus in the same degree as the Sun, this Full Moon is reflecting Venusian-infused Sunlight. On the far side of Sun, Venus aligns with the heart of our star. Even if we don't see our sister planet, we can feel the light-hearted uplift—perhaps even a cosmic wave of joy. Mars is close by the Sun as well, increasing the emotional activity of this Full Moon.
In a short week, a strong change of tone follows the Sun and a retinue of planets from fiery Leo into earth-toned Virgo over the last ten days of the month. Tasks to be accomplished call our attention to the work-a-day world, to Nature and an oncoming change of seasons. The New Moon on the 30th nudges us to reset our priorities. Let's put JOY high on the list.
The shimmering pink-gold love energy of Venus radiates with the Sun in conjunction every four years at this same time of year, in front of the Sun or in back of the Sun. Look back 4 years to August of 2015 in order to see what emotional resonances you can glean from that time when Venus was conjunct the Sun when closest to Earth. That was the start of a particular Venus cycle that is fulfilling itself now. Look back 8 years ago to consider what you were experiencing the last time Venus was conjunct the Sun in Leo from the far side, as it is now. You can track your experience back every 4 years in this way, a potentially enlightening exercise.
One difference this time is thatMars is close to the Sun as well, charging us with courage from the heart of Regulus, the Royal Star that marks the heart of Leo the Lion.On the 18th of this month, Mars is the first planet to move from Leo to Virgo, across the cusp of the Sphinx, with the body of the Lion and the head of the Goddess. Royal star Regulus shines brightly in the heart of the Lion. Since this slow-moving fixed star has recently moved across the same cusp, true leadership is now in service of the people rather than for the self.
This theme is reinforced when Venus moves into Virgo on the 21st, the Sun on the 23rd, and Mercury on the 29th. The 24th is a special day as Venus joins Mars for an invisible rendezvous in a sunlit grotto beyond our sight.This can be emotionally calming if we let it be, by letting go of stress and allowing our bodies to find their own rhythm in the day. It's just not worth it to push ourselves or strive for some elusive ideal of perfection that cannot be sustained in this world.
"You do not have to be good.
You do not have to walk on your knees
For a hundred miles through the desert, repenting.
You only have to let the soft animal of your body love what it loves….
Whoever you are, no matter how lonely, the world offers itself to your imagination, calls to you like the wild geese, harsh and exciting—
over and over announcing your place in the family of things."
Listen to Mary Oliver read the whole of her lovely poem, "Wild Geese":
Jupiter has turned forward, ready to gallop toward the Sagittarian finish line by the beginning of December. The Big Planet has certainly stimulated our imagination, at times "harsh and exciting" yet also benevolent and wise. Next month, this largest planet, at its most expansive in its own sign, makes its last exact square with Neptune in Pisces, also in its own sign (first time since 1861). This combination has evoked a powerful flexing of moral muscle and a tune up of right brain waves from discordant to harmonious (if we have positively engaged with it). This dynamic has defined a significant inspiration and challenge of 2019: to seek a true vision and sense of direction in an increasingly fluid reality. Aim your arrow true as you move forward. Intuition guides the way. Imagine the world you most deeply desire to experience. [Seek musical inspiration from John Lennon, as needed.]
Meanwhile, Uranus has halted forward motion, turning backward to re-plow the fresh ground we have already covered, to make it softer and more receptive for the seeding of new crops. What are you planting in the field of your life? Review this year so far to see how and which initiatives and activities are growing and healthy. Some may need to be re-stimulated, tended, watered or even thinned out. Which are you enjoying enough to continue to invest your time, energy and love? What will bring pleasure and reward in the long run?
Use the creative inspiration on offer under this Full Moon and for the next week!
The Sabian Symbols of the Sun and Moon both suggest a circus theme, as we witness ourselves and others as performers in the 'circus of life.
"The Sun at 23 Leo (following the carrier pigeon of Venus, above):
How are you being daring with your best creative skills? Don't "show off" unless you know what you are doing. "Courage and mastery over ones powerful energies," writes Lynda Hill in her The Sabian Symbols as an Oracle.

The Full Moon @23 Aquarius:
"A Big Trained Bear Sitting Down and Waving All Its Paws"
A performing animal is not living its natural life. In many ways, we are similar in being trained, taught or role-modeled to be a certain way. Are there places in your life where you are "performing," rather than "being"? How can you more fully express your true Self? Do you need to balance your life between doing what others want and doing what your heart calls you to? Sometimes these are the same, but sometimes they are not. We are not honoring ourselves when we are out of integrity, and our Venus (self esteem wilts and Mars energy withers).
As Mars and Venus move closer together to join in Virgo, we can feel a humble common sense within that shows us how we can be true to ourselves and best serve the Earth.
* * * * * * * * * * * * *