Full Moon @19 Virgo-Pisces 37
March 9, 2020, 1:48pm EDT, 10:48am PDT, 5:48pm GMT, 
March 10, 4:48am AEDT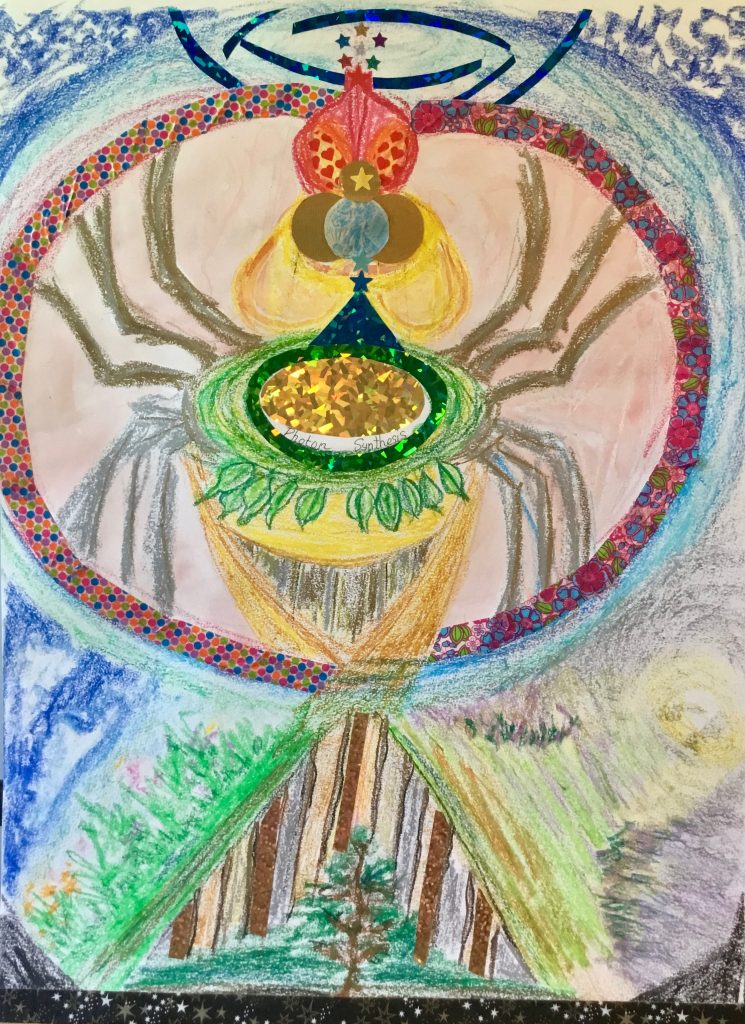 Neptune conjunct the Sun and opposing the Moon is the most powerful planetary influence of this Full Moon, operating on subtle wavelengths.As my colleague Philip Sedgwick recently wrote, "As the Sun sails by Neptune in Pisces, strive to rest, to dream, and to conjure up visions for immediate application." We are each translating cosmic vibrations into embodied living.
With a Full Moon in the sign of Virgo, we have a full deck of earth signs,three pragmatic signs of the zodiac that like to get things done. We draw together this chunky triangle of earth signs to manifest meaningful experiences, productive activity and satisfactory outcomes:
Virgo— Full Moon; 
Taurus— potent conjunction of Venus with Uranus, and 
Capricorn— 4-planet stellium of Mars/Jupiter/Pluto/Saturn.
Also, two of the original Asteroid Goddesses are in earth signs, adding their special textures—Vesta in Taurus and Pallas in Capricorn. The powerful Lilith Star, Algol, spices things up with a hefty dash of stimulating hot pepper. 
Mercury offers perspective, as it slowed down to turn around on this Full Moon day. Mercury turning direct in Aquarius radiates information from higher mind octaves, with the clarity of high quality electronics. We need the broader perspective it offers at this turning point, before it plunges back into Piscean seas, evoking an experience of whatever tuning fork we are vibrating to. A perceptual revolution is here, and changes the actions that we take.
Vesta, goddess of the sacred flame, is in a power spot, aligned with the Star Algol at 26 Taurus, the all-seeing Eye of Medusa,the snake-haired creature of myth. Medusa's penetrating Eye sees right through you and perceives "with an objectivity like that of nature itself and our dreams, boring into the soul to find the naked truth, to see reality beneath all its myriad forms and the illusions and defenses it displays," as described by SylviaPerera in her rich volume, Descent to the Goddess.  This star has also been called Lilith, an inscrutable goddess with ambiguous history as a storm demon.
We confront darkness and shadows, in ourselves and others. Do we respond in fear or compassion, or both? Let us not be taken by fear, even as nefarious activities are exposed. The darker the intent, the more love is needed to overcome it.  This star carried collective fears as well, that may burden us heavily in the chaos of these times. 
With Mercury in a challenging alignment with this "dark" star, negative thoughts, doubts and fears are to be placed on Vesta's altar to be burned and transformed into prayers to Heaven. As we create sacred space around us, we make ourselves channels of healing in an offering to the world. We do this by filling our thoughts with light and positivity so that we do not succumb to the negativity, but rather make an uplifting contribution to the vibrational field we all share. More and more, we experience our oneness. 
With Neptune strong in Pisces, and conjunct the Sun of this Full Moon, we may feel like Fish in a collective sea. When the sea is polluted by negativity, like a global virus, it is the light and love that will best immunize us. Fear shuts down the immune system. We want to support and strengthen that system with love and the healing gifts of Nature that buoy our defenses against invasion. 
The world is such a mirror back to our own experience. We seek to turn around our lives, like Mercury is turning around, to live from the inside out, rather than the outside in. This is the empowering transformational potential offered by the power trio of Jupiter, Pluto and Saturn in Capricorn, currently activated by Mars and guided by the strategic wisdom of Asteroid Pallas (Athena), promoting efficiency and efficacy. Take charge and make the situation work for you as well as you can. You may find you can do more than you thought you could. If a fire gets lit under you, that may be what it takes. It also take compassion and sensitivity.
Let us become angry enough to care about ourselves…. Let self-love develop as it ought once we admit and realize that this power is within our grasp.    
—Vivian Bennerson, Epheta, p69.
Venus joins revolutionary Uranus in Taurus (more earth energy!). Venus is strong in her own sign. Rely on yourself first and be free. Stand for what you value. As things rapidly change up, be at the ready to respond accordingly. Stick-in-the-muds get left behind and lose out.
Well-tempered like precision tools, the power players in Capricorn —Jupiter, Pluto, Saturn— are redesigning our experience at an essential level. Asteroid Pallas Athena offers her pragmatic wisdom. Mythically she provided many of the practical things that make life work, such as the olive tree, the plow and the spinning wheel. What will she offer in these third millennial times? 
Even as this Full Moon wanes, Saturn crosses the line into Aquarius (March 21-22) entering this social air sign for the first time since early 1994. We begin to see a noticeable shift, as a new agenda is suggested, not yet ready for fulfillment, but giving us a heads-up. Saturn fully enters Aquarius (with Jupiter!) as this year comes to a close, inaugurating a new 20-year cycle.
The Sabian Symbols of the Sun and the Moon suggest a storyline for this Full Moon. See what is stimulated in your imagination by these two images. Sounds promising to me. You make up your own story.
Sun @ 20 Pisces: A Table Set for an Evening Meal
Moon @ 20 Virgo: A Caravan of Cars Headed for Promised Lands
What are you putting on your table?
Where are you heading on your journey?
I wrote last time something that is worth remembering:
"Rare intense waves of energy are flowing like tidal waves through our solar system, awakening energies and perceptions that are so new to us that we can hardly believe how life is now unfolding. Some experiences are shocking; some are amazing, seemingly magical, revealing the intimate presence of something greater than our small selves moving in our lives." 
As the vibrational fields light up, there can be some interference from old signals. If you are experiencing such static, take charge and change your dial. Pretend you are a radio, receiving and emitting signals. This is pretty much the way it is. 
Turn off or away from the signals that disturb you; fine tune and turn up the signals that amplify your joy and love. Listen to the music you want to dance to and let your body dance on. As poet Mary Oliver reminds us,
"You only have to let the soft animal of your body love what it loves." 
We are reminded us in so many ways that each moment is brand new and unprecedented in our experience. We need to take our know-how and apply it in new, inventive and embodied ways to deepen our immediate joy of living on this extraordinary planet Earth.
* * * * * * * * * * *