NEW WEBINAR!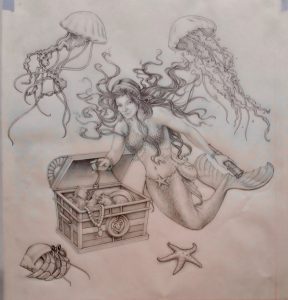 More on this juicy rich retrograde cycle!
Saturday, October 27, 12pm EDT,
90 minutes, $25
Recording available soon thereafter.
Register here.
Venus is taking us on a deep dive below the surface of our lives, retrograde in Scorpio. Venus realigns with the Sun on October 26th, half-way through its retrograde period. Most of us are familiar with Mercury retrograde. What is the invitation from Venus?
Every eight years we experience this particular Venus retrograde. The essential theme is the same each time, but the storyline changes. We will track this particular storyline that is unfolding through mid-December, involving earth-shaking Uranus in Taurus and the Nodes of the Moon, as well as certain powerful stars and planets: Sedna, Spica, Algol, Black Moon Lilith.
Be inspired by transformative goddess archetypes and themes resonant with the Scorpio flavor, especially Eros. Our deepest desires are stirred.
We'll look back on what we have experienced so far and ahead to the significant shift of tone in November, when Venus returns to her own sign, Libra, and turns forward, accompanied by significant planet sign changes, as we head toward the Solstice and New Year.
Take note: This retrograde cycle affects specific groups of people born at Scorpio-rich moments— with Uranus, Neptune, Pluto & Chiron in Scorpio— great fodder for further discussion, as many of you have one of these positions.