New Moon @25 Virgo 01
September 17, 2020, 7:00am EDT, 4:00am PDT, 12:00pm BST, 11:00pm AEST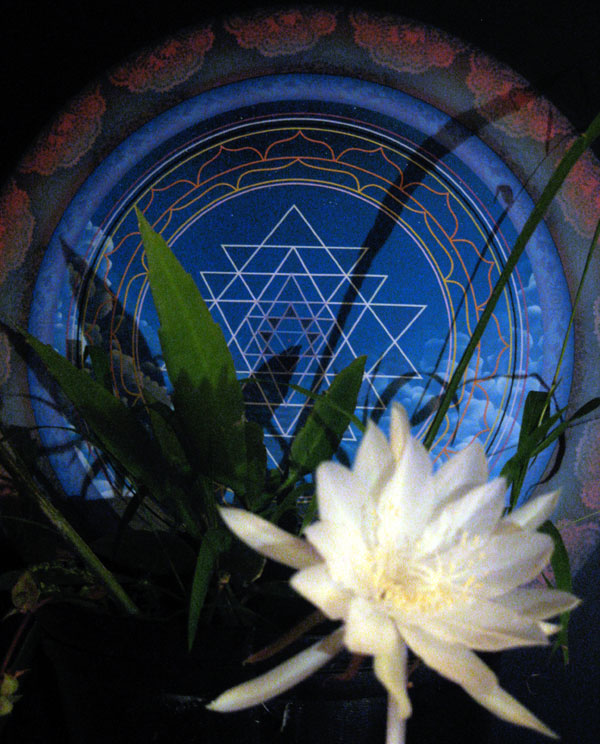 Are we dreaming the Earth or is the Earth dreaming us?
This is a relevant question for this New Moon in Virgo, which tunes into the fluid DreamSpace of Neptune across the sky.Neptune is a subtle influence, not always noticed, but effective as a strong underlying tone or frequency to our experience. In a sign for 14 years, Neptune challenges our collective consciousness with veils, obfuscations and illusionary trends, as it pulls us toward refined and uplifted perceptions of the interwoven web of life and the universe. This New Moon timed right at the top of the hour illustrates Virgo's love of precision and attention to specific details. Neptune in Pisces is like Impressionistic art, blending all these specifics into a tapestry of light and beauty.
This New Moon opposing Neptune echoes the last Full Moon aligned with Neptune in Pisces, and with a fading echo of that Full Moon's planetary triangle in earth signs. The peak efficacy of the earth trine is on the wane as the Equinox approaches and the Sun shifts from Virgo into Libra. This New Moon applies the Neptune DreamSpace inspirations with more fire sign flair, as Venus in Leo adds her creativity and love of beauty to the deep transformational work at hand. We have Mars in fire sign Aries and South Node in fire sign Sagittarius. Together these three factors form a fire sign triangle, stimulating us up with heightened creativity, motivation and inspiration to get even more accomplished, make more, do more. This helps us through any lackluster sitting back under the Mars retrograde. Virgo reminds us that even small acts, refined attention to detail and humble daily chores are a great service to the world and contribute to the greater good. We can still get a lot done
Let your imagination sing with the stars! Adventure beckons with new stories to be told and invites us to tune into Nature's divinely-infused manifestations—like this one from a recent astronomical realization.
Here is an awesome image to contemplate involving cosmic halos: Astronomers announced a new discovery in relation to the Andromeda galaxy, the closest to our own Milky Way galaxy. For some time astronomers have observed that these two sister galaxies are approaching each other and will merge one far distant day. They now see that the plasma 'auras' of the two galaxies may already be starting to converge. Andromeda's 'halo' of diffuse plasma was measured to extend out more than one million light years, about half way to the Milky way, likely overlapping with the 'gaseous halo' of our galaxy.
For some time we have been in a galactic photon belt, sending sweeping waves of plasma light frequencies into our solar system. I like the idea of overlapping galactic auras, which adds another layer of galactic input and communication. This certainly matches the incoming South Node energy, still positioned close to the degree of the Galactic Center (26 Sag). We 'hear' the wavelength, and find a way to translate the vision, sense of direction and light into our situational conversation, aligning head with heart.
As we approach the September 22 Equinox, a hot and spicy conjunction of mythic siblings is in progress, asserting their energy on and off through the rest of this year. This New Moon features planet Mars and dwarf planet Eris at fiery peak conjunction #2. Both opposite Mercury, this suggests news that is upsetting to various people; also rampant misinformation, arguments and aggressive troublemaking, which will surely be demonstrated by some. A better expression will be seen by those who stand straight and tall, and do what needs to be done without rancor. Where do you stand?
Recently I came across a phrase that well describes female warrior Eris:
"Be the kind of woman that when your feet hit the floor each morning, the devil says, 'Oh no! She's up!'"
Enough said!
Planet Mars, retrograde, looming large, and glowing red in the night sky, remains in Aries over 6 months— from the end of June 2020 into January 2021. When retrograde, Mars backtracks over what has already happened. Some things may need to be tweaked. Consider what has been going on in your life, and what you want to be doing as time moves along toward the end of this rigorous year. Take it slow and don't rush. Feel each footstep land on solid ground. Standing centered, strong and clear on your personal solid ground may upset others. Sometimes that can't be helped. Personal integrity is based on self-clarity that cannot be compromised. With appropriate restraint, movement is focused, accomplishments well-crafted; indirect action can be most effective. When Mars comes out of retrograde, like a red light turning green, in November on Friday the 13th or Saturday the 14th, we want to be able to drive on with increased clarity and confidence, more sure of where we are going and what we are doing. We may need to continually remind ourselves that this is mainly an inner process, impacted by the outer world, but operating on a deeper, Pluto-impacted level.
In her most recent newsletter, intuitive visionary Leilah Ward writes:
"There is something much deeper going on within each of us – within our personal journey. The radiance of our energy field goes out into the world – the energy field of Earth. We are adding our own frequency to the harmonic resonance of Humanity. Many are aware of this. Bringing ourselves back into our center of love helps us maintain the frequency of our unique Divine Soul Essence… Tuning in to our center and simply being within the radiance of our Divine Soul Essence helps us to find peace and if we so desire, we can link to the Inner Net where we connect with one another in the beauty of our collective consciousness."
[read her full piece here]
As the Moon waxes from this day up to the next Full Moon on October 1-2, a key turning point is September 29, when Saturn, in a slow, careful turn, turns direct at 25 Capricorn, ready to move on to Aquarius for a second take. Saturn made a first foray into Aquarius from March Equinox through June. This time (December 17) we will be able to bring even more experience, depth of consideration and greater perspective to Saturn's Aquarian personal and global manifestations, lasting half way into 2023.
Something has clearly been in the works throughout 2020; Saturn demonstrates more of what that is in straight-forward terms. Nobody is going to miss this, especial as Saturn has been in cahoots with Pluto and continues to interact with the dynamic duo in Aries. Circumstances are demonstrably changing. What does this mean for you? "It's happening!" Whatever "it" is, it's timely, appropriate and ready to take us forward, even more so in November with the green light of Mars direct. And wouldn't that be so amazing if Mars actually did turn green!
I end with this hopeful reminder:
By year's end we are through a huge piece of work.
We enter a clear zone, on a new collective High Way.
Be Your Best Self!
You are a Star in a Galaxy of Stars!
* * * * * * * * *
Mars Retrograde Special— Planet Mars, retrograde, large, and glowing red in the night sky, remains in Aries over 6 months. What does this extended activation mean to you? Each of us is being stirred up, questioning what we want to be doing and seeking clear direction. Let's look at your chart and locate your leading edge, your front line. 45 minutes, $115.
New! Leading with Light podcast
Astrological Overview of the last season of 2020
On Apple Podcast:https://apple.co/35RfSi7
For those who don't use Apple Podcast, go to SkyIsLimitless.com: https://bit.ly/3iB9sXH
Cosmic Inspiration Radio
Connect to the Wisdom of the Universe
with StarLady Kelley Hunter
Streamed Live around the world at http://www.wgdr.org/
THURSDAYS, 4-5:00pm ET
WGDR, Goddard College Community Radio
The September 10 show is about Mars retrograde,
with a great playlist including Michelle Many's Planetary Meditation on Mars (see more her great series at; the Mongolian band The Hu; and a series of songs all titled "Hero".
The September 17 show is on this New Moon! with a seasonal playlist.