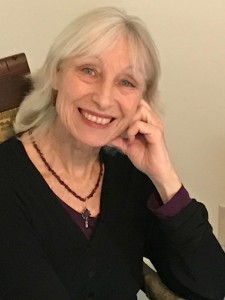 Kelley Hunter, Ph.D. is an internationally known Depth Astrologer and Astro-Mythologist, who weaves perspectives from archetypal psychology, cosmology, and consciousness studies into her approach.
She has been studying the language of the stars and mythic stories of our shared human experience for five decades, seeking and finding many insights on her own pathway to self-discovery.
The heart of her work is consultations with persons who are seeking deeper self-awareness and understanding of their life experiences. The "cosmic blueprint" of your birth chart gives guidance throughout life.  It is so affirming to feel recognized by something greater than ourselves. Astrology is not so much about predicting the future, as it is looking deeper into current cycles and the present moment in relation to your life purpose. Astrology can be a illuminating window for personal growth and into relationship dynamics (for couples, parents, professional partners) and for success in business. "There is a time to every purpose under Heaven."
Kelley has a special interest in the divine feminine. She is the author of Living Lilith: Four Dimensions of the Cosmic Feminine and Black Moon Lilith, as well as a contributing writer to the anthology, Goddesses in World Culture.      
She has also been a feature writer for The International Astrologer, The Mountain Astrologer and other professional journals,  Her Cosmic News appears twice a month, focusing on the Moon cycle to track the rhythm of the planetary patterns in our experience and highlight the strongest themes of the month. It  appears on FB and via email (sign up here: http://heliastar.com/cosmic-news/), .
Her enjoyment of the creative process, as dramatist, visual artist and periodic poet, led to her most recent publication, Planetary Gods & Goddesses Coloring Book. As Director of Helia Productions, she creates a variety of programs and presentations in astronomy, astrology and myth with and for various groups and collaborators.
Kelley has been a speaker at astrology conferences in the U.S. and abroad, including the major international United Astrology Congress. She has served on the Board of the International Society for Astrological Research and has been a guest speaker for a range of psychology, spiritual and holistic organizations.
Kelley currently lives in the Green Mountains of Vermont. She recently returned from eighteen years in St. John, Virgin Islands, where she led weekly programs for star-struck visitors telling mythic stories from the stars. She also served as Astrologer-in-residence for the Self Centre at Caneel Bay Resort and  for the Omega Institute winter programs.