New Moon @ 12 Gemini 34
June 3, 2019 @ 6:03am EDT, 3:03am PDT, 10:03am GMT,
8:03pm AEST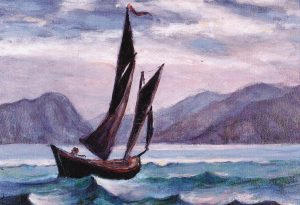 Image: Penelope, oil painting by Les Anderson, artist and sailor, St. John, Virgin Islands. Many of his paintings have been made into cards. For more info, contact Mary, his manager @mblazine@yahoo.com. If you want a special get-away in the winter season, look up Fiddlewood, their quiet, beautifully-designed St. John rental cottage with water views and walkable to two lovely, off-the-beaten path beaches.
June 2019
The slow-onset of a new season coincides with several retrograde planets, slowing things down. In spite of so much juggling, let's try to take advantage of any downtime moments in the rapid pace before we head into July's eclipse season. A potential collective paradigm shift may evoke reactivity. A flexible and open mind gives options for consideration. Enjoy Nature and fall in love with her beauty every day.
Getting to Know Young Aardvark Woman
In my May 18th Cosmic News, I mentioned the recently named planetoid, G!kun||'homdima(try saying it like Goon-home-dee-mah). Closely conjunct this New Moon at 11 Gemini 46, she has lost no time getting involved with us. We can experience more of what "she" is about this coming month.
Discovered on October 19, 2007 by the prolific KBO discovery team at Palomar Observatory in California, this object got its name from an African myth of
"the beautiful aardvark girl of Jul'hoan mythology who sometimes appears in stories as a python and sometimes as an elephant. She defends her people and punishes wrongdoers using g\|amispines, a raincloud full of hail, and her magical oryx horn G!o'e!Hu," according to NASA's Jet Propulsion Laboratory website.Its one satellite, one of the reddest objects  in the Kuiper Belt, is named G!o'e!Hu for the oryx horn.
Wikileaks has more.
A Medicine Woman with a shamanic capacity for shapeshifting, G!kun||'homdima(Goon-home-dee-mah) stands for cosmic justice, adding her unique strength to the influence of this year's notable Jupiter-Neptune dynamic. Keep attuned to revelations in dream visions by night. By day, question everything you here, listening for the internal ring of from that intuitive Sagittarian bell of truth—and stand in that truth. Seek out tranquil moments that allow your mundane mind to rest and your imagination to soar.
Here is Christopher Cross' iconic song, "Sailing," that offers an uplifting  inspirational note, more Neptunian than a call to justice. We need some free moments to be able to be in the right place to answer that call:
"If the wind is right you can sail away and find tranquility….
you can find the joy of innocence again."
Mercury is in its prime sign across from Jupiter in its Sagittarian strong suit. This opposition elicits a powerful truth serum. Likely there will be news that confounds our sense of reality, putting an interesting twist on our interpretation of events and situations. Gemini gathers new pieces to the puzzle that sometimes Sagittarius thought it had all put together. No tidy packages here. Loose ends, fraying edges, lots of dandelion fluff buffeted by the winds of change. Open minds and hearts are called for, with a Buddha-like attitude of inquiry. Assumptions are challenged, sharply pointed out by the tip of her magical oryx horn. Note the number ofheavy hail storms that have been pounding down in unusual places on the globe this year. Her myth is coming alive.
The discovery chart for our interesting new KBO neighbor features Sun @25 Libra and Moon @ 28 Capricorn, soon to be visited by Saturn and then Pluto. We are going to hear more from her! I'm bound to mention her again in late summer (why? stay tuned!).  Meanwhile keep an ear to the ground for news of more hail storms, deaths by spikes, or newsworthy sightings of aardvark, oryx, elephant or python.  With an orbit of 620 years, more than twice as far out as Pluto, when she comes around, she hangs around for a while. Make friends with your inner aardvark, an ancient Earth creature, helpful for feeling grounded.
Pause during the day to feel your feet on the ground, while allowing your higher mind some air time. Here's another relevant musical interlude. This verison of "On a Clear Day" is from the original Broadcast recording includes the rarely-played introduction:
"Could anyone among us
Have an inkling or a clue
What magic feats or wizardry
And voodoo you can do?…
So much more than we ever knew,
So much more were we born to do.
Should you draw back the curtain,
This I am certain:
You'll be impressed with you."
In her strong sign as well, Venus in Taurus is on her way to a June 6 conjunction with Algol, the Lilith starI wrote of last time, when the Sun was conjunct that penetrating star marking the Eye of Medusa.  With her sweeter Eye on things, nevertheless Venus is promoting the ongoing transformational agenda of the intense Pluto-Saturn-South Node conjunction. New ground is revealed in this deep dig into what is going on— not all pretty, but necessary for ultimately improving our lives. Are you committed to sweeping out your cobwebs to invite the fresh wind to blow through your life? This is the time to get aboard and go with the flow, with the wind at your back.
Venus invites us to appreciate this moment, to see clearly the Beauty of Nature around us, the simple things in life—as in this Rumi poem (—translated by Daniel Landinsky in his Love Poems from God), perfectly attuned to the best of this New Moon:
"On a day when the wind is perfect,
The sail just needs to open and the world is full of beauty.
Today is such a
Day.
My eyes are like the sun that makes promises,
The promise of life
That it always
Keeps
Each morning
The living heart gives to us as does that luminous sphere,
Both caress the earth with great tenderness.
There is a breeze that can enter the soul.
This love I know plays a drum. Arms move around me;
Who can contain their self before my beauty?
Peace is wonderful,
But ecstatic dance is more fun, and less narcissistic;
Gregarious he makes our lips.
One a day when the wind is perfect,
The sail just needs to open
And love starts,
Today is such
A day."
**********************