NEW MOON at 7 SAGITTARIUS 43
November 29, 7:18am EST, 4:18am PST, 12:18pm GMT,
11:18pm AEDT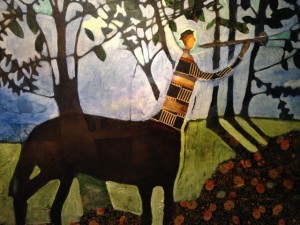 Image: Centaur, by Donald Saaf, 2014. Photographed by author at the Kent Museum show entitled, during the Calais (VT) Fall Foliage Festival.
Under this SAGITTARIAN NEW MOON, it is time to sharpen our arrowheads and hone our vision. Stay clear on the path we want to follow. NEPTUNE in PISCES has a strong influence on this Moon and, since it is on the South Node of the Moon, we have a collective challenge to have faith, feel the tides of change and realize that the overwhelming percentage of what is going on is unseen. A spiritual call is being trumpeted and serenaded from deep below the surface and inside our cells.
The Sabian Symbol for this New Moon reads:
DEEP WITHIN THE DEPTHS OF THE EARTH, NEW ELEMENTS ARE BEING FORMED.
Sabian High Priestess Lynda Hill interprets it thusly: "deep, organic changes are occurring. Whilst these shifts may be big, significant and extremely life changing, they may not be at all obvious on the surface. 'Deep "down and Within', there is a lot going on, regardless of one's eternal demeanor."
You can read more Sabian interpretations of current planetary dynamics and consult her prescient online Sabian Oracle at https://sabiansymbols.com/.
BIG CHOICES
are on the line, with JUPITER's challenging interface with PLUTO. We are up in front of "it" in so many ways. Just as the Sabian symbol says, new elements are arising from deep inside the Earth itself. "It" refers to the necessity of our times to change the "bottom line" in terms of how we live, in response to this arising. In this Moon cycle, we find out more about where we draw the line, where we must re-draw the line. We get some Mercury retrograde time (December 19-January 8) to outline new patterns we can create with that line and with the new elements, as we re-draw the parameters of some basics in our lives. This is not a pipe dream, not a fantasy, not a television reality show—or is it? It so depends on what wavelength we are tuning into—love or fear. We need to turn off the leaky faucets where fear drains our energy.
NEPTUNIAN-INFUSED FEELINGS
are bubbling up. These can be the drains of worry, anxiety, insomnia or they can be nuances, songs, dreams and insights that inspire. That's a Big Choice, sometimes not as easy as it sounds. When we tune in and engage with angelic realms, spiritual guidance rides in on starlight and infuses the cosmic fields. The call is answered.
Do you know that song, "Calling All Angels," by Train?:
"I need a sign to let me know you're here
'Cause my TV set just keeps it all from being clear
I want a reason for the way things have to be
I need a hand to help build up some kind of hope inside of me
And I'm calling all angels
I'm calling all you angels…"
They've also got a song called "Drops of Jupiter" and "When I Look to the Sky"—more good ones for planet-lovers to check out.
The NEW MOON is at 90-degree angles with the Nodes of the Moon, the collective Line of Destiny. This is a pivotal karmic point in our shared history and consciousness. It is easy to feel discouraged and fall into despair. The call is to pay attention to this ONE MOMENT, NOW, and see what the angels sing to you. Part of the call is to serve. When we offer help to others, say a blessing to the water we drink, appreciate the glory of Nature according to the season, wear a smile to share, we are being of service. Sometimes we see results, small as they may seem, but meaningful, to make life better. We feel better, too, stronger, more engaged, involved, like we do make a difference.
Rather than get caught up in the confusing whirlpool of the worldly drama, let's step back into SIMPLE, APPROPRIATE, LOVING gestures and thoughts that make meaning, that make angels smile.
HEADING INTO DECEMBER
December fires burn bright. We become more naturally thoughtful. Imagination roams and intuition inspires. Any plan or idea is likely to be stale without those two essentials. Solstice is on the 21st, one of the two turning points of the Sun. To celebrate, Mercury goes retrograde on the 20th in cahoots with Pluto, god of death and rebirth, implying a major rethink. Let's walk carefully through this annual gateway and into next year, taking into account the impact of our thoughts and deeds, take our time. Let's make a solid start into 2017 to redesign our lives in harmony with our true vision.
*********************************