Full Moon Total Eclipse at 4 Leo-AQUARIUS 45
July 27, 2018, 4:20pm EDT, 1:20pm PDT, 9:20pm BST
July 28, 2018, 6:20am AEST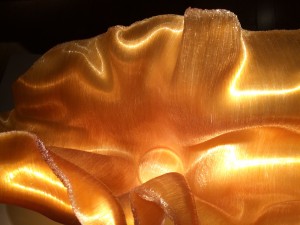 Image: Vortice, 2016, glass sculpture by Mary Ann "Toots" Zynsky. Photo by author from Palm Springs (CA) Art Museum exhibition, "No Glass Ceiling: Women Working in Glass, part 1, December 2017. Artist's comment: "I have inside, outside, back of the inside, and the other side. You can never see the whole piece at once. There's always something mysterious, no matter what angle or in what light you're looking at the piece. It forces you to move around it."
This statement describes a key aspect of this month's radical eclipse season. This Total Lunar Eclipse, fueled by Mars retrograde in cahoots with Uranus, is a highly electrically-charged dynamic that requires changing our stances and looking from difference angles at both our own experience and what is going on in the larger social sphere. Techno issues are rampant and vertigo is becoming a more common experience. The Earth is like a rocking boat, with increasing earthquake and volcanic activity as tectonic plates shift. Grow your sea legs.
This Full Moon Total Eclipse is a doozy, for sure. Doozy is defined as "something extraordinary or bizarre." Druzies are stones upon which tiny quartz crystals form, creating a shimmer effect.
Vortice, name of the pictured art piece above, refers to "vortex," a whirling mass of fluid or air that spins so fast it pulls everything into it— as in whirlwind or whirlpool, maybe a tornado, a hurricane or a black hole. A total eclipse is a kind of vortex, dark to light.
This Full Moon Eclipse is all of the above. Its planetary dynamics indicate a power potential appropriate for a total lunar eclipse sandwiched between two more subtle solar eclipses. More often we have two eclipses twice a year. When we get a bonus third eclipse, it's a more intense eclipse "storm." Also this is an especially long eclipse, extending the depth and reach of the dark vortex as we move through a spacetime wormhole tunnel! Are you up for an adventure,
Think of this Total Lunar Eclipse as a kind of upside down mirror reflection of the famous Total Solar Eclipse last August. Down the rabbit hole or through the looking glass, take your choice. The dark shadow of this Total Eclipse is a special challenge. Likely we all come out on the other side. Hopefully will have shed some shadows and likely we will find we have been changed.
An eclipse is more powerful when there are planets involved with the Sun and Moon. Mars is the main player in this one, right in a 3-4-5 / Mars, Moon, South Node degree line up in Aquarius. The South Node is the point of entry, pulling in energy from the past, from the depths of the field. Mars is retrograde (since June 26), impacting our experience in evoking, examining and expressing the warrior energy. We are clearing the air, clearing a space that allows energy to find new outlets. What do you want? Follow the energy. As my artist friend William puts it, "Flow with the Go!" That's about right for this dramatic ripple effect in the collective field.
Venus is smoothing the choppy waters, with a steady, responsive grounding in natural Virgo. Quietly, she seeks to be of service, aligning with powerful Pluto's Capricorn agenda of reformulation and Neptune's Piscean dreams. She calls upon the mermaid flow, deep diving with Pluto in Scorpio.
Mercury has stopped to watch this eclipse, heading retrograde, listening carefully. The eclipse moment is like a camera shutter that clicks a photo view. We can use the next weeks to let the photo develop from the negative film to reveal the vision in multidimensional technocolor. We find ourselves in a new act of a compelling drama. What is your role? Play it to your best, straight from your Heart!
*************************************************
Eclipse Special
If you need some clarity on what is opening for you through this black hole of a total eclipse, a 30 minute check-in could be in order, give you some cosmic inspiration to chew on. Let me know via email if you can use such insight to help you see the bright side. We can set something up. $75. Until the August 19, when Mercury turns direct.