New Moon @ 15 Sagittarius 07
December 6, 2018, 11:20pm PST
December 7, 2:20am EST, 7:20am GMT, 6:20pm AEDT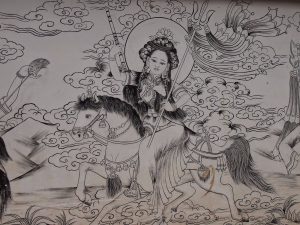 Image: Ancient Goddess Gemu resides in Lion Mountain and appears to the people riding a white horse. For this New Moon, perhaps we can see her as a horse goddess aspect of the Sagittarian Archer. Brilliant goddess scholar Max Dashu (of www.suppressedhistories.net) recently shared about Gemu, referencing this website for more of her stories and interesting history.
December offers clear breath of fresh motivation and inspiration. Get on your horse and ride with Gemu! A quick succession of planetary movements picks up the pace.
*12/6 Mercury turns forward @27 Scorpio—deep reconsiderations and mental reconfigurations uncover insights that lead to a vision we can enthusiasically aim for.
*12/6-7 New Moon @ 15+ Sagittarius—a new lunar cycle begins tapping into profound impulse from The Great Attractor, the focal point of a gigantic galactic supercluster of thousands of galaxies that our Milky Way Galaxy is part of. Wow, more than Awesome.
*12/8 Chiron turns forward @ 28 Pisces— healing water flow under the bridge freeing up old pain, opening compassion and spiritual grace, as new cellular and brain synapses fire up.
*12/12 Mercury re-enters Sagittarius, sighting the true target.
*12/21-22 Mercury meets up with Jupiter in Sagittarius, powerful in its own sign, on the Solstice Full Moon— the Messenger of the Gods broadcasts wisdom from the King of the Gods, wielder of the lightning bolt. More on this next time, when we'll all know more.
This New Moon happens to be on my birthday, so I know very well the Sabian Symbol that goes with it. Dane Rudhyar's version is my favorite for 16 Sagittarius:
"A calm ocean; a motionless ship; lazily soaring seagulls."
I have lived this image over my lifetime, from growing up on the U.S. Atlantic coast and then living in the Caribbean for a couple of decades. It is a hang-in-the-hammock or beach-chair-feet-dangling-in-the- water kind of mood, good for daydreaming and riding on the clouds into the blue sky, for relaxing and meditating anywhere to soar into visionary realms. Dane Rudhyar adds this interpretational phrase: "Moments of pause that presage change. Alert readiness to act; or distress at not knowing what lies ahead."
This image and interpretation aligns so well with the impact of
an exact conjunction of Mars & Neptune in Pisces, that subtly imposes potential subterfuge and misdirection. There is still some confusion about what is going on, what we are doing and where we are heading. On the high side, this combination stimulates Big Dreams and mystical experiences. Shall we point our intention and attention in that direction? Recalibrate when you swerve sideways.
Perhaps this quote may be relevant and useful to you:
"Consider the wisdom in not getting what you want. What is truly yours will be waiting for you."
─Alberto Villoldo, PhD, from the Mystical Shaman Oracle
Black Moon Lilith in Aquarius soars into the aethers for a clearer view from her spacious, non-judgmental stillness. She is making 72-degree "genius" aspects with both Uranus and Jupiter, opening up paradigm shift and perspectives beyond the sight of the seagulls. Have you heard about the energy wave, a "weird low-frequency rumble that rang the entire planet" on 11/11, so subtle, mysterious, initially undetected, yet powerful enough to ripple across Earth?
*A shift in the magma?
*An eruption of a 3000-year-old volcano?
*Seismic waves reverberating across tectonic plates?
*An effect of the cosmic plasma waves sweeping in on the solar wind?
*The awakening of planetary consciousness?
More than one possibility could be the answer in this multiple choice list. We can likely expect more such seemingly mysteries events as the Earth wakes up. The expertise of Dutchsinse is my go-to in relation to the increasing global earthquake activity.
Come home to your own truth about what is going on within you. Do you feel internal earthquakes of realization? Too much attention to the "reality show" of "out there" will create static. Tap into your own golden flame and tend it, so that you radiate light from your heart around you. The fog will clear and reality will shift. When Mercury moves into Sagittarius a few days into this New Moon cycle, a flash of intuition helps clear the vision.
As we finish the full circle of the recent Venus retrograde cycle this month, a subliminal emotional process is in progress until Solstice Full Cold Moon on the 21/22nd. Don't short-circuit this very meaningful process. Things become increasingly crystal clear as we head into a New Year.
Earth Goddess Ceres has accompanied Venus in her recent transformational quest— Vermont's new Ceres statue was raised to her shining golden on the Statehouse on Friday, November 30. Thousands of Vermonters joined together to celebrate this historic moment. She brought the community together in the special way that can happen in such a small State. Ceres lovers can read the article I wrote about Vermont's Third Incarnation of Ceres at https://www.vermontwoman.com/articles/2018/1118/02-ceres-statue/ceres-statue.html
I invite you to my New Moon birthday party, where I am serving
Sun Sign Fortune Cookies
lightly sugared with a few crumbly clues. Brew up your favorite beverage and enjoy. Read your rising sign message also. If you are still hungry, perhaps you'd like an astrology consultation to help set up your New Year vision? See new astro-special below.
Sagittarius— Happy Birthday! Opportunities pop up a'plenty and life becomes again the adventure it's meant to be. Starting now, your vision is amplified. Your intuition is on high volume with revelatory insight. This year is yours. Declare your destination and let the wild horse in you run free.
Capricorn— You, of all people, must love your sign ruler Saturn, with those glorious rings. As strict and disciplinarian as it can be, it trains you through experience to fulfill your capacity, to craft and implement pragmatic results. What is your greater Plan? Nothing else really matters at this point.
Aquarius— For months you have hardly known if you are coming or going, with Mars going backward and forward in your sign. If you feel a bit battered, out of breath, and mentally exhausted, take time to relax, breathe deeply and replenish your nervous system. You'll figure it all out.
Pisces— Get ready to ride the strong wave of energy coming your way. Be the captain of your ship. Looking backwards to watch the wake of the boat, see how old pains and hurts, and memories both sweet and bitter, all roll away. Point your spyglass toward new horizons for the New Year.
Aries— Yet another jolt of energy impels you to change your life in unexpected ways as you follow your star. Don't be impatient. Something unprecedented is coming your way. Enjoy the ride and appreciate the scenery. This can be the best part!
Taurus— Does the road feel a bit bumpy lately? It may not be totally smooth and comfortable, but changing things around will be rewarding in the long run. There's no other option. You're the one to get it done and "make it so."
Gemini— Jigsaw puzzle time. Gather your pieces, find the edges, sort the colors and match the shapes for a view of the Bigger Picture. What does it look like to you? Make it what you like to look at! Freshen your spirits and arrange your thoughts in a pleasing manner—toss out negative thinking.
Cancer— Attachments to the past are being challenged. Old habits die hard, but you can see more clearly what contributes to your growth and what is holding you back. With your gentle sensitivity, you can tune what into others need for their growth as well. You have a lot to give.
Leo— One way or another, you've been in the spotlight, whether you like it or not. Mostly you like it, but it's been more challenging lately to express yourself clearly. And you are finding out who sees you for who you are and who doesn't (even old friends). You first, from the heart.
Virgo— Your natural rhythms are so primary (and natural) to you that it is disconcerting when they are disrupted and your energy drops off. At these times, like now, it is ever more important to step back, eat well, get your sleep, and reset your priorities. Don't let others confuse you. Take your time.
Libra— This is a great time to enhance the harmony in your life, first with yourself, then with others. Don't go overboard tryng to make something work without any cooperation. You can find other, likely better options, and make other, likely better, choices.
Scorpio— After a deep dive in your sign, Venus has turned forward, continuing to stir your feelings into 2019. Let her spiciness evoke a saucy smile as you take on your life with renewed verve. If you're not feeling it yet, you will, you must! Give life a reason to reward you.
I will be in touch again as the Solstice Full Moon approaches, gateway to the New Year.