New Moon @ 4 Scorpio 25October 27, 2019 @11:39pm EDT, 8:39pm PDT
October 28 @3:39am GMT, 2:39pm AEDT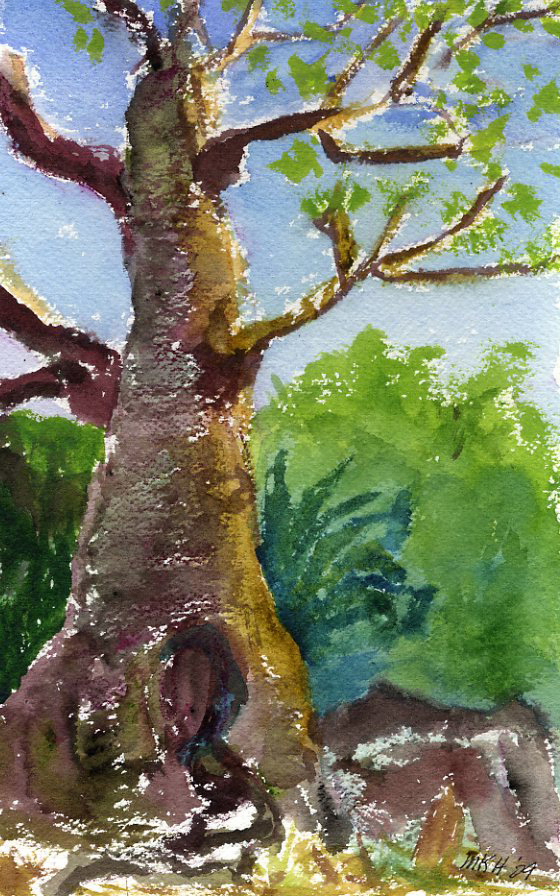 "If we surrendered to earth's intelligence
we could rise up rooted, like trees." —Rilke
After an intense Plutonian-Impacted Full Moon just two weeks ago, this New Moon in Scorpio is directly charged up by another change-maker outer planet. This time it is Uranus—the Awakener, Revolutionary Change-Agent, Higher Mind. Rather than the deep subsurface roiling of Pluto, Uranus delivers a highly electric lightning bolt mode of impact: sudden, surprising, even shocking. As the days unfold through this New Moon cycle, they won't be what we would expect or how we would expect things to be happening. Most of us will have reason to raise our eyebrows! "Interesting," to say the least.
The New Moon @5 Scorpio has a strong Sabian symbol that illustrates the resilience of this water sign:
"A Massive, Unchanging Rocky Shore Resists the Pounding of the Sea."Whatever happens there is a strong, steady foundation that can make it through any changes. On the other hand, sometimes when change is necessary and inevitable, we resist it.
Uranus opposite @5 Taurus resonates with themes of Scorpio as well, while grounding us in this earth sign's intelligence as in the Rilke quote above:
"A Youthful Widow, Fresh and Soul-Cleansed from Grief, Kneels at an Open Grave to Receive the Secret of Eternal Life."
This is a powerful image of loss, letting go and deep inner surrender that can evoke a transformative spiritual revelation beyond life and death.
Let these images reverberate and evoke transformative and revitalizing energies from your depths. We can use the upcoming Mercury retrograde cycle to do such profound work.
Mercury turns retrograde on the far end of Scorpio on 10/31, just a few days after this New Moon. It may take some research and investigation to figure out what is really going on and process how we feel about it all. Scorpio is the detective of the zodiac, like a spy in the shadows. Apart from the global impact of Uranus as an outer planet, we may discover new veins of refreshing, reinvigorating water that shoot up like geysers from our inner depths. If you are disturbed in any way by what is going on in your life, your secret, sacred inner chamber is the place to take refuge. Poet Rilke, who wrestled mightily within himself, wrote,
"You see, I want a lot
Perhaps I want everything:
the darkness that comes with every infinite fall
and the shimmering blaze of every step up…
"You are not too old and it is not too late to dive into your increasing depths where life calmly gives out its own secret."
—from The Book of Hours: Love Poems to God
This book is rich in depth. Read more inspiring poetry from this collection.
Here is another, especially relevant to this New Moon:
"I love the dark hours of my being
My mind deepens into them.
There I can find, as in old letters,
the days of my life, already lived,
and held like a legend, and understood."
On this New Moon, Mars and Saturn are squared off to evoke some situational activation. What is happening with you? A fast paced series of strong planetary interactions moves things along quickly.
On October 29-30 the Moon, Venus and Mercury meet up at the far edge of Scorpio, with interesting, potentially positive revelations, and with two transformational results:
On October 31, Halloween, Mercury turns retrograde and the next day, November 1, All Saints Day, Venus moves into Sagittarius.
Venus lifts the mood, rising and brightening in the evening sky, feeling free, unfettered and optimistic. We'll need her inspiration as Mercury retrograde induces internal pondering and processing of what is going on and how we are feeling about it all. We are likely to be confronting and letting go of fearful and negative thinking. We change our minds and our perspectives by turning downward trends into creative and vibrant channels. It takes work, but we can change our minds. We have three weeks, until November 20, when Mercury redirects this process into new approaches to situations in our lives as it turns forward.
November 2, the Capricorn Moon meets up with Saturn and then Pluto (what a day). Both of these no-nonsense planets turned forward just about a month ago and are moving toward their inevitable, powerful conjunction in January. The Moon brings this intensifying influence forward this day. Soon thereafter, continuing and ramping up the intensity for a few days.
On November 5, Mars (which squares Saturn on this New Moon) squares off with Pluto.
This is a call to action. Do what is called for in your life and situation. Whatever you do, do it responsibly, with honor and respect. This first 9 days of this Moon cycle is basically action-packed, with inevitable and transformational impact. And we haven't even gotten to the Full Moon yet! That will be on the 12th, in the middle of the Mercury retrograde.
Meanwhile, Jupiter is like a wild horse galloping across open country, the final lap in its own sign of Sagittarius, heading toward the finish line. In December it enters the fenced fields of Capricorn, ready to be trained for further accomplishments. Let's enjoy this last month or so of its enthusiasm, inspiration and motivation, taking into account what we have learned and envisioned to "make it so."
Jupiter ends its run side-by-side with Ceres, in Sagittarius an advocate for truth and justice. These two will outpace Neptune in Pisces, with which Jupiter has been wrangling all of 2019. What can we believe about a fluid and ever-evolving "reality"? Neptune tends to pull the wool over our eyes, distracting us from seeing what the truth of any situation we are squinting at in order to have a clear view. When we listen to our wise Jupiterian intuition, we hear that bell of truth ring out clear and strong from deep inside. Are you hearing it? Venus joins Jupiter in late November for a celebratory sounding. Let's listen for that.
November Summary
We'll need this month's retrograde Mercury to regroup (November1st-20th). We get extra time to deal with new circumstances, clear out the clutter, prune dead ends, seek out reliable information and get down to pragmatic solutions. Support is available. May common sense prevail. Much can be accomplished by the Full Moon on the 12th. The go-ahead New Moon on the 26th is particularly celebratory, giving us confidence in the direction we are taking as we turn the page to a new chapter into 2020. Blessings abound.

* * * * * * * * * * *