New Moon @4 Aquarius 22
January 24, 2020, 4:42pm EST, 1:42pm PST, 9:42pm GMT,
January 25, 2020, 8:42am AEDT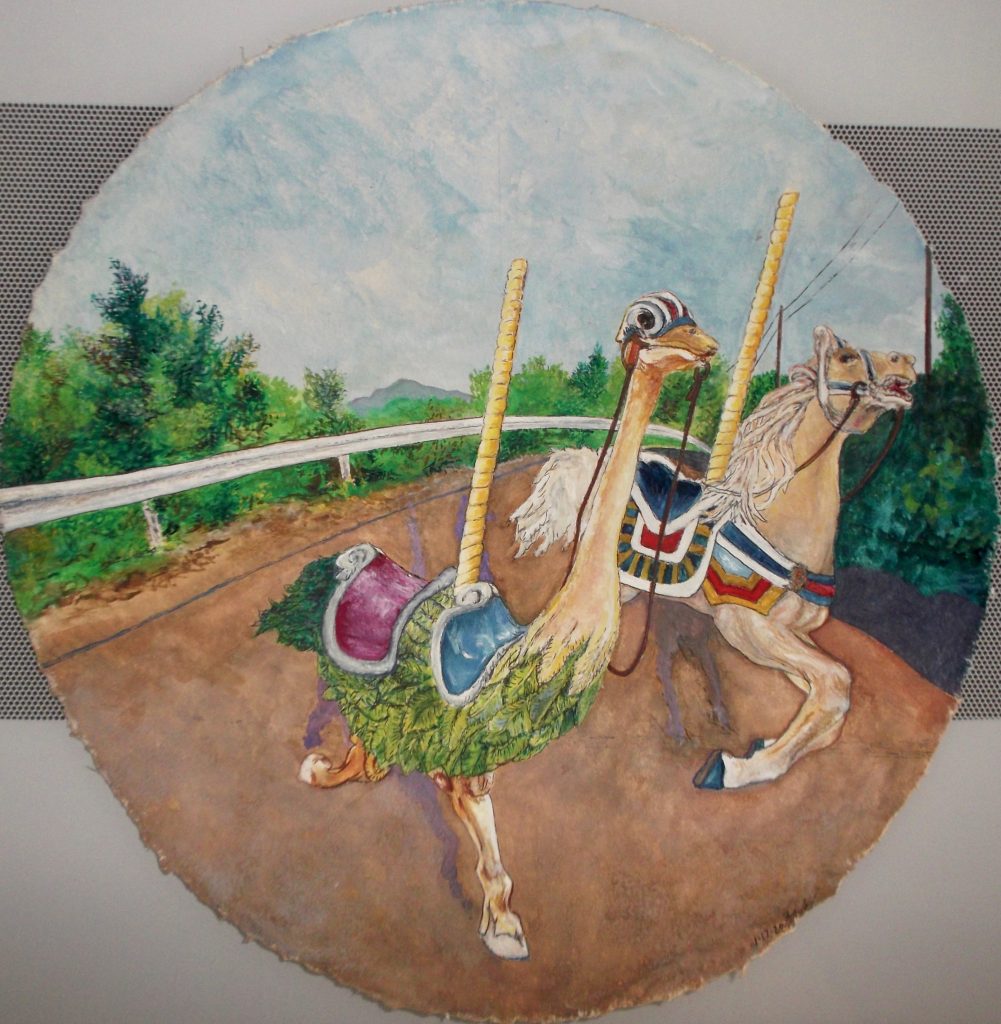 Image: "On the Lamb," recent watercolor by my sister Kirby Hunter.
Throw off your shackles! Escape from the merry-go-round&round&round on this Freedom-Loving New Moon!
The Triple Whammy weekend is behind us now, though we continue to experience its gong-like reverberations and repercussions.ThisNew Moon at in Aquarius is a breath of fresh air that may even take our breath away in surprise.Uranus is one of the rulers of this highly individualistic sign, and that "oddball" planet squares this New Moon, multiplying its stimulating and life-altering impact by several degrees. Uranus offers the perspective of the higher mind, clarity of the upper aethersphere beyond subjective filters and interpretations, as we ground more deeply into embodying the fullness of our Self.
After a whirlwind beginning to a new year and a new decade defined by whopper-style eclipses and intense planetary dynamics, we might want a bit of breathing space. We might not get that, but a new perspective is called for, rather like a dolphin or sea turtle coming up to the surface for a deep breath of air. This won't be a humdrum Moon cycle, where we sit back and relax. Nope! This is ride of excitement and stirred-up social activity, fueled with opportunities that do, indeed, stir us up.
The Sabian Symbol for 5 Aquarius reads:
"A Council of Ancestors Has Been Called to Guide a Man."
We can call on those who have come before for guidance, a theme echoed by the powerful alignment in Capricorn, a sign that also evokes Elders who have passed their knowledge on to us. It refers to the wisdom each of us has gained from our own life experience—and our own inner search for wisdom.
This New Moon also features an interesting conjunction of Chiron, Black Moon Lilith and distant planetoid Salaciathat ripples through most of 2020.
Chiron points to the healing of a fresh take on life, to be in the Nowas we seek new pathways that beckon with the promise of a new day, a new year, a new decade that we invent as we go. Catch a falling star and let it light your way.
Black Moon Lilith pinpoints the authenticity of centering in our soul integrity, with spacious openmindedness.
Salacia, Queen of Mermaids, causes the sunlight to sparkle on the sea with a deep delight that bubbles up from the heart. She dances in the bubbles of waves, and in rainbow shimmers across the sky. (More about Salacia.)
Altogether, there is a pristine creative energy that calls us into Newness with the power of Nowness. Experiment and play with the light coming in from far reaches of the Galaxy, sweeping through our solar system in waves that excite.
Uranus in Taurus invites us to embody this exciting cosmic energy through our bodies, as it excites the living Earth and all on it.She, in turn, invites us into Her dance of evolution in the Now. We are at a huge turning point as the many cycles that culminated and coalesced in 2012 continue to unfold in ever growing Beauty and Harmony.
Teabag notes from Traditional Medicinals:
"Earth laughs in flowers."—Ralph Waldo Emerson
"A garden is a delight to the eye and a solace for the soul."—Saadi
We started this year of 2020 in the middle of an eclipse cycle, already indicating major change. The Ring of Fire solar eclipse on December 26 waxed across the New Year threshold into a subtle, shadowy penumbral lunar eclipse on the Full Moon of Jan 10. That same day, R/Evolutionary Awakener planet Uranus turned to forward motion:
"Onward, Consciousness Change Agents!
On January 12, Saturn aligned with Pluto to close the books on their last major agenda that began in 1982, and opened new business for the next 34-year plan that leads to final results in 2054. Some of us know we won't be here then. Then let's use the time we have really well. This truly is a time for the Wisdom of Elders to be shared. We are all simultaneously living and dying from the day we are born.
Chariklo's Presence & Potency
Planetoid Chariklo was embedded in the potent January 10 eclipse alignment, as I shared with you in my last newsletter. She holds a key to this process of birthing, shapeshifting and rebirthing. Astronomically Chariklo is a 'centaur' object, part asteroid/part comet, an astronomical and mythic 'hybrid. I wrote of her as the River Mermaid who fell in love with Chiron and shapeshifted from fish-woman into horse-woman to be with this wise, strong centaur (read story on my website). She is a caregiver, an aide during transitions and life's many shapeshifting. She takes on whatever form most serves love. She was a helpmate to the "wounded healer" Chiron in his teaching, during his years of chronic pain and through his ascension into his star body as the constellation of The Centaur.
I have recently become aware of a movement for designing end-of-life care in ways that draw on the quality of caregiving during the birth process. I was given Francesca Arnoldy's book, Cultivating the Doula Heart, a manual to this kind of care, with approaches and practical questions, along with attention to the listening heart that serves the one making the major transition from life to death and into rebirth. This is Chariklo's presence.
As this New Year opened with a strong end-of-cycle conjunction of Saturn/Pluto, it ends with another such cyclical conjunction of Jupiter/Saturn.
My colleague Philip Sedgwick writes:
"On 21 December, as 2020 passes through its waning days, Jupiter and Saturn conjoin at 0 Aquarius 28. In theory, all should be right with the world…humanitarianism and compassion restored and a big, whole world plan to make things right for this planet and all the people on it. Perhaps the restoration of optimistic pragmatism and a perfect balance of expansion and contraction may guide us during this conjunction.
It's getting from here to there that might seem to be the trick."
This New Moon in early Aquarius opens perspectives and possibilities that lead to the inauguration of that new 20-year Jupiter/Saturn cycle at the end of this year, at the first degree of Aquarius. We'll get some further clues as Saturn makes a first foray into Aquarius right around March Equinox.
Is this another doorway into the Age of Aquarius? Oh, yes.
Let's celebrate and sing along with the original cast of Hair Let the Sunshine In.
If you want more, here is a fun, if idealized, version of Good Morning, Starshine by Oliver
Memories anyone? Did you see Hair? Or, like me, find yourself at Woodstock?
This can be a truly revolutionary year/decade. If we are open to experiencing the unprecedented and sharing our hearts in Presence with each other, we can awaken the best of potentials in a new cultural era of major social import, by and for the People. How will that work out? It's going to take some work through this New Year to get there, to keep feet on ground as we enter the gateway of the new decade and make it, as someone has said,
'The Soaring Twenties'!