NEW MOON at 8 AQUARIUS 15
January 27, 7:07pm EST, 4:07pm PST,
January 28, 12:07am GMT, 11:07am AEDT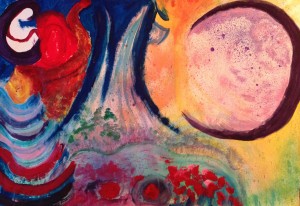 Image: Cosmic Message by author— a recent, spontaneous, unfinished piece compelled by an urgent need to paint. It started with the word COSMIC, then morphed. It does rather suggest this particular new moon, not that I consider it a work of genius by any means.
Nertyrewrtyrewrtyuiytreswsasdf….!!!!
Yes, you read that right—my computer was channeling some cosmic message that can't be decoded with the rational mind. So appropriate for this New Moon! Basically what was in my mind (overridden by a rogue element) was to convey that this New Moon augurs the REAL New Year. Then planet sign shifts kick the year into a higher gear. ALSO it is CHINESE NEW YEAR of the FIRE ROOSTER! Maybe those inscrutable comments above were the crowing of that cocky bird, announcing we know not what just yet. Rooster is not boring, and does note crow only at dawn. It lets you know what it thinks. This will be a high energy, keep on it, intense year favoring those that sustain focus and drive.
Let's see what this New Moon in Aquarius brings!
This NEW MOON in AQUARIUS is placed in a "genius" aspect (72 degrees) to URANUS in Aries is the freedom-lover, inventor, keen observer and higher mind observer. There's a genie in the air, a rare potential that can evoke the most exciting developments for you. Are you ready and willing? Sit up straight on the edge of your seat, ready for action. Listen to your genius gene.
There is another such genius aspect between MARS and PLUTO—a power punch combination that can be positively channeled by the WILL TO GOOD. This can result in a profound phoenix-like effect in the collective consciousness. That's a third bird of power and intensity. The Mars-Pluto can also be used for ill when fueled by negativity. Watch out for your own. Keep on the WILL to GOOD wavelength, which means a positive (higher mind) mental attitude and a grateful heart. This has been a big test of the Mercury retrograde cycle that took us into 2017. Can we stay positive-minded amidst the turmoil which is distressing to so many? A clue: stay vigilant, trust in the Universal Force and expect the best. We the People display our true, multi colors.
MERCURY is again visiting PLUTO, testing our intentions. At Solstice time last December these two planets met up, inaugurating Mercury's retrograde cycle. We have come full circle now, heading into new territory. AND we are on the cusp of major activity in Aries, with Mars and Venus entering that fire eater sign within the week. Movers and shakers alert!
Let's check the Sabian Symbol for a fuller story line:
9 AQUARIUS:
IN MEDITATION, A FLAG IS SEEN, WHICH CHANGES INTO AN EAGLE
The Eagle is a totem for this New Moon. "King or Queen of the Skies," this large strong bird has a broad wingspan, is keen-sighted and flies high. Mythically Eagle shows up as a messenger of the gods, sometimes carrying cosmic thunderbolts in its sharp beak. Sacred to many native peoples, Eagle's gifts are flashes of insight, mental acuity beyond judgments and biases—very Aquarian. An efficient hunter, it zeros in on what it seeks.
Based on the current global politics, this image has deep meaning, as national interests need to be balanced with global vision. The Eagle is on a number of national flags: Albania, American Samoa, Ecuador, Egypt, Mexico, Moldova, and Nigeria. We see it on shields and currency. There are single, double and even triple-headed eagles. This time, perhaps we can imagine a two-headed rooster-eagle combination— a powerhouse of a bird!
In the sky, Eagle is the constellation Aquila. The brightest star is Altair, which marks the heart or the throat of the Eagle. Speak from the heart.
Aquarius loves to use technology. The internet is particularly Aquarian, with its thirst for information and insights, as well as social connectivity. This is a good month to use this modern communication medium to further your goals. Express your unique "cockadoodledoo". On a personal level, what flag are you flying? What is Eagle showing you through its far, focused vision. What is the transformational potential that allows you to soar?
This New Moon is just about on the cusp of February. Let me offer this short summary of next month (published in Vermont Woman magazine) as a post-script to this New Moon discussion. Heads up! The next Full Moon is an eclipse. Prepare by following a gem of Quaker wisdom: "Proceed as the way opens."
We might not know exactly how things are going to unfold, but divine guidance will show the way to a fitting outcome.
FEBRUARY
A sluggish start to 2017 saw us striving to get our thinking caps on straight in relation to the level of change. The New Year finally gathers speed now, amidst two eclipses: a minor lunar one on the 11th, a major solar eclipse on the 26th. Crystal clear in your intentions, you can stay on course with your goals. Dialogue and collaboration bring best opportunities or expose brick wall biases, including your own. Share thoughts clearly and calmly without useless brangling.