FULL MOON at 13 Virgo-PISCES 53
September 6, 2017, 3:03am EDT, 12:03am PDT, 8:03am BST, 10:03pm AEST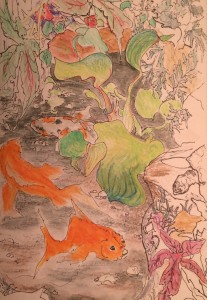 Image: Koi Pond, watercolor pencil sketch by my sister Kirby Hunter.
There is still a lot of fiery flare in the planetary line-up, but this Full Moon in Pisces with Sun in Virgo gives us watery moment, in some places too much water. This is a very wet Moon, with Earth-changing impact. Whatever it takes to get us to live in accord with our Mother Earth.
As much as we might want to take time off and relax deeply into Neptune's dreamland, this God of the Sea is stirring up some storms. Strong in its own sign, it is so closely conjunct the Moon that its influence is flowing everywhere, moving around and into every nook and cranny. Mermaids are singing, angelic and/or siren-like. This Moon gets special inspiration from its square with Black Moon Lilith. Listen to the secret mermaid song in your imagination. Let the clear light shine.
Last time, in relation to the Sabian Symbol of the Eclipse degree, I mentioned Hans Christian Andersen's "The Little Sea Maid," yearning for an immortal soul as much as for love of the prince. Mercury brings back the mermaid, as it has just turned slowly forward on the very degree of the New Moon Total Eclipse with its mermaid symbolism.
29 LEO— A MERMAID HAS CLIMED TO THE ROCKY SHORE OF A BLEAK COAST, SHE AWAITS THE PRINCE WHO WILL BRING HER IMMORTALITY.
Take a moment to think about that image. What does it evoke in you? What is your heart or your soul awaiting? There is something in each of us that is unhappy here on the "bleak coast" of this world, with hurricane-force chaos swirling seemingly everywhere. How do we manage our inner sense of being separated from our moorings, cast out into a barren land? Essentially we are alone in life. Neptune asks us, how do we bear it? Do we seek a cosmic, divine connection with something greater than ourselves, or do we seek some sensation to avoid feeling such a soulful ache? We are invited us to feel deeply into this moment, with hearts full of prayer, kindness, service to others as well as self-compassion.
This is a Full Moon to dream under, whether by night or day. Don't be dismayed if you are feeling a low energy level. It is entirely appropriate. There is something calling you from the inside. A Big Dream, perhaps, your Big Dream, our collective Big Dream. This is the Full Moon blossoming of the New Moon Total Eclipse. We continue to dwell in its window, becoming more aware of what is coming to light. What news is coming into your consciousness stream? What new movie is projecting onto your recently refreshed global reality screen? Messenger Mercury is delivering blessings, decrees, inspirations and reality checks from that Total Eclipse Black Whole. The New Vision is being revealed. Now that the several planets in Leo are starting to move into Virgo, we'll get a lot done. First we have to take in a variety of new perceptions, be present with we're doing and infuse the whole ball of wax with loving energy. We are still making our way through some dark, rain-sad clouds, drenched with toxic feelings, seductive illusions, confusing thought streams, collective confusions, denials and amnesia. It is our job to clear our minds and hearts, raise our psychic impressions and trust our creative imagination, so the clouds will lift. On toward rainbows and clear skies. The song, "On a clear day, you can see forever," made a big impression on me. I've shared it before, but let's listen to it again. Here's a jazzy version by Sammy Davis, Jr.
A timely newsletter came into my email stream today from the Love Summit, written by John Perkins, founder of Dream Change. Love and Dream Change, Perfect! Virgo loves Perfect. Actually I received this newsletter from at least 3 sources over the past week, like different streams merging into a river. The Love Summit is happening October 12-13 in Cincinnati, with the title of #BottomLineLove, a gathering of contemporary Uranus in Aries pioneers in Pluto-in-Capricorn business models based on love rather than greed. I'm so glad to hear about it. You gotta love it! Perkins wrote, "In this time of global crises, we all need to stop regretting what has happened, learn from the past, confront our inertia and lack of creativity around the crises, and rise up to a greater awareness of what is needed to overcome those crises."
http://johnperkins.org/newsletter/whats-love-got-to-do-with-success-everything
These words resonate so particularly with the current eclipse Leo Heart energy as we merge toward its Virgo applications. Mars just crossed the line into Virgo, setting priorities to clarify what we each are doing. Practicalities of daily life take over. Don't be in a rush. Find your own rhythm, which may be very fluid! While making their way through Virgo this month, the three personal planets Mercury (19th), Mars (24th), then Venus (29th) all oppose Neptune. Attend to your spiritual guidance all month. We may be tested, then uplifted. These planets then oppose Chiron, Mercury already on the 28th. Mercury's caduesus wand with its interwined serpents, will be humming with healing, along with our chakra system. There is a new waterfall of creative energy available. Tap in.
Depending on your mood, get out some Beatles tunes like "All You Need is Love," and Van Morrison's MoonDance; or kirtan and chanting CDs; relaxation, harp, Chopin— uplifting music and song for moving to. Let your body reveal its organic wisdom, awakening cells and functional fluidity. In other words, Row, row, row your boat down the Stream of Love.
*************************************************************