NEW MOON at 2 CANCER 47
June 23, 10:31pm EDT, 7:31pm PDT
June 24, 3:31am BDT, 12:31pm AEST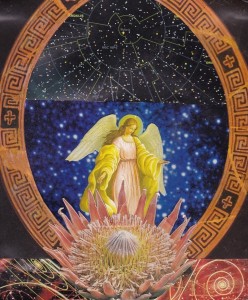 The Sun is still at its Solstice turnaround point. The Sun starts leaning back southward at the end of its 5-day window of stillness on this New Moon, making for an extra special celestial moment and turning point of the year. Feel the tender, powerful receptivity to whatever is needed. Cancer loves its nest, its safe space, womb-like, in which to nurture and ready its fledglings—whether they be reflections, insights, gifts…..Cancer feels it way into the world, reaching out for what is needed, for sustenance, for good food and love, for where it belongs.
Where do you belong, now, as your life unfolds, where is the sweet growth spot in these wildly changing times. Where is your harbor?
This New Moon in watery, home-loving Cancer is accompanied by both Mercury and Mars. A good deal of our attention is given to our near and dear, to security, to nesting and finding a comfortable place to relax. Cancer has a subjectivity that has its positives and challenges. Its feelers tune in to its surroundings, taking soundings. Cancer is not a passive sign. It is one of the four active, CARDINAL signs (Capricorn, Libra, Aries), reaching out with watery, feeling initiatives, with questions such as:
"What is needed by that person? for these people? in this situation? What do I need?"
Mars, low in the western sky, is about to disappear in the light of the Sun, rather like a crab that scutters sideways into its hole when danger looms. Watch out for a sneak attack of those pincer claws. Invisible Mars mounts a push, out in front of Mercury and the Sun, quickly moving into challenging dynamics—an opposition with Pluto, then a square with Uranus, that pushes defensive buttons, activates hot spots and Cancerian trademark potential passive/aggressive reactions. We don't have to do it that way, which is the whole point of this higher consciousness interface with outer planets.
What is a better, more conscious and responsible approach that can meet the needs of the greater good?
These are good questions to ask now, as we gear up for a spicy summer, which may be a little too hot in several ways for comfort-loving Cancer. We are inspired and fired up by a fire sign triangle, made of
Saturn/ Black Moon Lilith in Sagittarius—deep wisdom, insight and farsight from this no-nonsense, truth aflame pair;
Uranus in Aries lights up an electric sky with revolutionary/evolutionary fervor as it moves toward its end point in Aries;
The North Node or Dragon Head in Leo, marks the August eclipse point and invites Mars in to activate a karmic call from the Heart of the Lion.
To Summarize:
After an emotionally-challenging spring, the planetary patterns are lightening up. June 21 Solstice extends through this July 23 New Moon in Cancer for new growth.
The July 9 Full Moon, conjunct Pluto, presents a turning point and exposes the necessity for a new way forward. Gentleness and kindness wear away defensiveness, like water on stone. When facing decisions, take care that you are making them for the right reasons and from your heart. This also goes for the conversations you have with others, whatever their views.
The July 23 New Moon in Leo, conjunct a sizzling, jalapeno pepper Mars, is a call to action that reverberates through the rest of the summer.
The August 7 Full Moon, still conjunct Mars, is partially eclipsed, preparing us for:
The August 21 dramatic Solar Eclipse in Leo, with Mars still marching alongside, masked by the light of the Sun. I wondered if Mars would be visible during the eclipse and looked it up. Apparently those in the American path of totality, from the northwest to the southeast, may see not only Mars, but Mercury, Venus and Jupiter as well.
More on that in July and August.
****************************