Full Moon at 1 TAURUS-Scorpio 13
October 24, 2018, 12:45pm EDT, 9:45am PDT, 4:45pm GMT,
October 25, 3:45am AEDT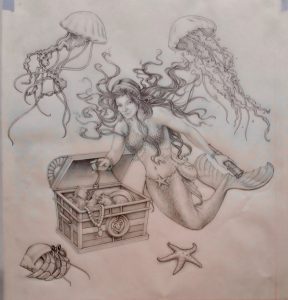 Image: Mermaid Morgan, by artist William Giese.
See more of his work on Instagram: william.giese.
Take note of new webinar on Venus Retrograde, below.
This Full Moon announces the New Venus two days later.
Venus retrograde already conjuncts the Sun in Scorpioas she merges invisibly into the light of Sun, while the Full Moon in Taurus is intimately involved with (conjunct) Uranus.
This is quite a Full Moon dynamic! And squaring the Nodes of the Moon, the Line of Destiny, highlighting a karmic turning point in our collective experience. Repercussions reverberate well into the New Year.
The cosmic seas have been churning with storms of all kinds this year. This is another tidal turning point, evoking the edginess of Uranus transitioning into Taurus. Before it hunkers into its 7-year cycle in that earth sign, the "oddball planet" of revolutionary impact and higher mind consciousness will revert back to Aries for a fresh spark of fire starting in early November. Meanwhile Sir Radical is not letting us forget that the energy field is supernaturally, electrically charged, plowing up new ground (Taurus) in our collective experience.
We end and begin a new 584-day Venus cycle, as Venus steps in front of the Sun on the 26/27th, infused with the high frequency waves of this Full Moon. Venus rules Taurus, the zodiac field of new global developments, a la Uranus. Therefore Venus has big stakes and a lot of say about what is going on. Retrograde in Scorpio, she is not to be satisfied with simplistic, plastic-coated solutions. She plunges deep, taking us on a journey to root out weeds in our own underground. She invites us to find a source of delight and whole-hearted investment in the innately erotic and sensual experience of life.
In other words, turn off the computer, television, smart phone, etc and get out on the ground. Dig in dirt. Taurus is the tree-hugger sign. This article in the current Spirit of Change magazine is scientifically condoning the beneficial inspiration and sense of wellbeing we get from a walk in the woods.
Poet Sappho of ancient Lesbos knew the shiver-me-timbers verve of Eros, the god who emerged from Chaos with Gaia, as Desire creates earthly reality:
"Eros shivers my heart,
Like a wind down the mountain
Which falls on the oaks."
When we are feeling this rich passion for embodiment (which originally brought us to this planet), we can evoke our greatest gifts to the world. Jupiter's presence in Scorpio this past eleven months, has stirred our depths. Take advantage of this gift now, as Jupiter changes into its own sign, Sagittarius, in early November (heads up Saggies!). Chiron is back in Pisces for a few months, helping to heal old scars. It heads back into Aries with a cleaner slate early in 2019 (coming right up!). Renewing herself in a Sun bath, Venus is urging and inviting us to integrate as well let go of old scars, fears and resistances.
Can we find a new state of being that overcomes the mental theorizing about life, a stance that separates us from our immediate experience? Can we tap the core experience of divine sensuality in our lives? Spiritual psychologist A.H. Almaas writes,
"There can be a sense of beauty when we use the word "divine,"
a sense of exquisiteness, a sense of gracefulness, a sense of magnificence, a sense of heartfulness, a sense of abiding in a deep and selfless type of love."
This is what Venus retrograde in Scorpio invites us to explore. The key to this experience is buried like a treasure chest deep in the seas of our subliminal, awareness, often hidden, dismissed, ignored. Uranus in Taurus opens the timely potential of consciousness more deeply rooted in the our bodies, as our cells respond to higher octaves of light waves entering our solar system, infusing all planets and life forms, including our human bodies.
In my lively consideration of this Venus retrograde (see below), I have been inspired by this book Almaas co-authored with Karen Johnson, The Power of Divine Eros: The Illuminating Force of Love in Everyday Life.
I just got a copy of another promising reference, A Return to Eros: The Radical Experience of Being Fully Alive, by Marc Gafni and Kristina Kincaid (recommended by astrologer Simon Vorster, on his recent youtube on Venus retrograde, worth a listen).
This is an essential, significant Venus retrograde. How we engage this invitation to enhance beauty and joy in our lives is a commitment we can make that will impact how we each affect outcomes that manifest under Uranus in Taurus. Imagine more beauty and abundance and this becomes the potential, among many, that we plant in the ground, tend and harvest through that cycle.
Our own experience, emotional state and heart-felt vision is a contribution to the greater whole and the collective outcome. It's like voting. Exercise your energetic capacity to do so.
Let the beauty we love be what we do.
There are hundreds of ways to kneel and kiss the ground. —Rumi
******************************************