NEW MOON at 7 CAPRICORN 59
December 28, 10:53pm PST,
December 29, 1:53am EST, 6:53am GMT, 5:53pm AEDT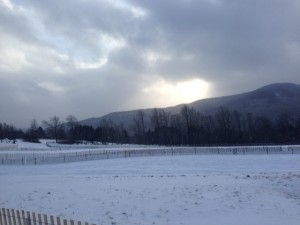 Image: Late afternoon mountain vista from the VonTrapp Family Lodge in Stowe, Vermont after cross-country skiing. A lot more snow coming along with the New Moon. Photo by author.
With Mercury retrograde hugging the New Moon in Capricorn, we can look for realignment in some of the very basic structures of our lives. This takes care, some time and a nearby dose of Pluto to persevere in nudging some deteriorating and sagging patterns into fresh, pleasing, healthier streamlined graphics.
This is the Moon that takes us into the New Year, reviewing the ledger of 2016, a very long and trying year for many, but with much to celebrate and experiences to honor. What were your successes, losses, moments of joy, special memories, unfinished business of this year about to end? As we turn the calendar page, we can take our time gathering momentum in 2017. Mercury continues retrograde until January 8th.
MARS, the action planet, is joining Neptune in Pisces. We may not be feeling quite up to starting the new year, not sure what we want or what we are doing. It's not clear what is going on in the bigger picture, so best to pay attention to what you can take care of and take personal responsibility for. It's most important to keep our own energy clear and tuned to as fine a vibration as we are capable of. Take that time that it takes to do so. Your new year will begin much more smoothly, if you are in a good flow.
A electrical charge is created by JUPITER in Libra crossing wires with URANUS in Aries, opposing and highlighting each other across the skies. Unexpected developments are more than likely and happening already. This close alignment explains a higher mind perception that we are watching for signals, intuiting new visions and ideas that will take us into the new year feeling fresh, alert and excited. Keep plugging away for just those ideas that do it for you.
SATURN in Sagittiarus is on board with that, encouraging us to envision goals that we can put our enthusiasm behind and really accomplish in 2017. This coming year is Saturn's last in Sagittarius. Let's garner all the inspiration we can.
A subtle, minor note is toned by CHIRON in Pisces, in a close dynamic with Saturn. "We can't go on like this," is one refrain that seeks a harmonic resolution. Don't skip over the feelings of melancholy, moodiness or grumpiness that inform our awareness of what we must attend to in order to find the attunement to bring us to that harmony. We don't need to be martyrs to anyone's cause. A full-hearted, selective generosity is meaningful, without draining one's energy in the process of giving.
VENUS in Aquarius sweetens the air with benevolence and a spicy undertone, reminding us that each individual is unique, living to unfold and express a soul song, and that it is best for everyone when we all remember that. It's one big OOOMMMM on some level, if we can just listen deeply enough.
*****************************