New Moon @ 8 Leo 37
July 31, 2019 @ 11:12pm EDT, 8:12pm PDT
August 1 @ 3:12am GMT, 1:12pm AEST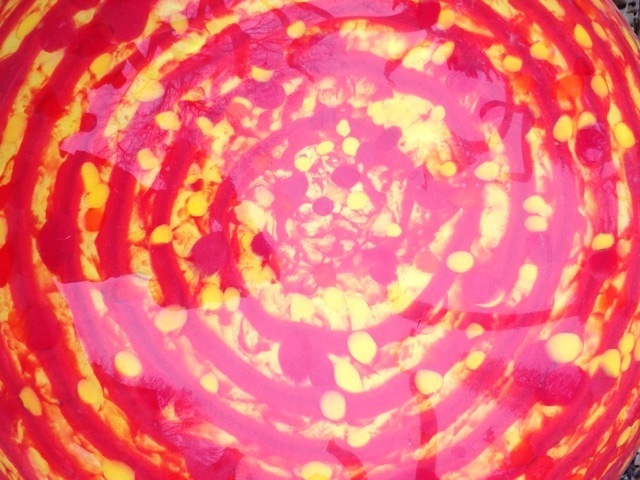 The Sabian Symbol for this New Moon at 9 Leo evokes the creation of beauty: "Glass Blowers Shape Beautiful Forms with their Controlled Breathing."
Such artists craft with care, skill and precision, drawing inspiration from the sacred geometries of Nature. We are surrounded by so much beauty, let us appreciate and follow the beauty path that unfolds before us. A dynamic and busy time of year opens up as we head into August…and on into September. How will you now contribute? what can you create? What has been evoked in you through the eclipses and Mercury retrograde of July? We continue to feel and flow with the plasma waves washing through our solar system, waking us up.
This New Moon in Leosignals a noticeable shift in tone as Venus and Mars invisibly flank the Sun. Venus is moving around behind the Sun from our earthly point of view, communing with the stars and channeling a higher, heavenly love through the solar radiance.
(Musical suggestion: listen to this lovely version of Steve Winwood's 'Bring me a Higher Love sung by his daughter Lilly with him on piano and backup vocals)
Engulfed in the light of the Sun for a couple of months, Venus will not reappear to our sight until early September when she begins to rise as the Evening Star. While in the vales and veils of light, Venus will join Mars. The archetypal lovers come together for an unseen conjunction on August 24th in the "lightworld" of the Sun, which can be experienced as an emotional integration. This New Moon augurs that cosmic moment as Mars now joins Juno, another Queen of Heaven like Venus, wanting commitment—be it to a relationship or a cause, or a new phase of our life purpose.
Uranus in Taurus squares Leo New Moon
Expect some Big Drama through this whole August Moon cycle as Uranus disrupts and throws lightning bolts onto the scene the whole week of this New Moon. Can you sense that we are living in unprecedented times?
Mercury Turns Forward
After a bear of a retrograde (wasn't it?!) with Mercury submerged in the Cancer eclipse waters, are you feeling rather waterlogged? This New Moon is the turning point of Mercury to direct motion. It doesn't take Mercury too long to gain speed. On August 11th, the Messenger of the Gods enters fiery Leo, joining the party there and picking up more pace. Enjoy! The three personal planets will be in Leo with the Sun until after the August 15th Full Moon, offering a special window of time of augmented creativity before the party moves into Virgo for clean up, rearranging 'furniture' and listing priorities.
Put that date, August 11, into your calendar, as the same day Uranus turns retrograde, to heighten the electrical tension, and Jupiter turns forward, to race like a wild horsethrough Sagittarius and enter into Capricorn around Christmas. The pace of change is picking up, with more manifestational earth energy directed straight and true by the Sagittarian arrow. The tip of that arrow leads us to the Heart of the Milky Way Galaxy. The arrow is also aimed toward the heart of the Scorpion. We let go of resistance to fly into expanded horizons and focus our sight on enriched experience and quality of living.
Prepare to do your bit. This is a serious time. Much of this year (with Jupiter in Sag square Neptune in Pisces) has been about seeking a vision that reverberates true to our hearts, giving us a sense of direction in an increasingly fluid reality. These next few months will tell a tale. What is your vision? What is your story?
Half way between the New and Full Moons, we enter the
Lions Gate Portal—an annual gateway into the celestial realm, inviting higher frequencies from the star, Sirius. The brightest star we see, Sirius flashes rainbow light from 8 light years away (so scientists say). I have an idea that there is an immediate connection to any of the starry suns in the heavens that we engage with awe in our hearts. The Lions Gate Portal is activated every year on 8-8. This is Sirius time.
With so many planets expressing Lion-Hearted radiance, this can be a special month of solar, life-giving dispensation. Create with joy as an antidote to the intense and profound transformation that can evoke fear and anxiety. We are staring into hidden recesses of darkness to dispel such undermining reactions. This can be a highly challenging yet deeply empowering Moon cycle.
Imagine that the sparkling rosy pink energy of Venus blends with the golden rays of the Sun to uplift our planetary and personal experience, infusing us with a flood of beauty that delights every cell in our bodies and throughout Nature. Feel the shower of sunlit snowflakes of uniquely beautiful designs and resonance that quickens as yet dormant creative life force in each cosmically-informed subatomic particle.
Just entertaining such thoughts changes our view of life.
A good way to come out of a mind-altering Mercury retrograde!
*****************************