Full Moon Lunar Eclipse @20Cancer– 20Capricorn00January 10, 2020, 2:21pm EST, 11:21am PST, 7:21pm GMT,
January 11, 2020, 6:21am AEDT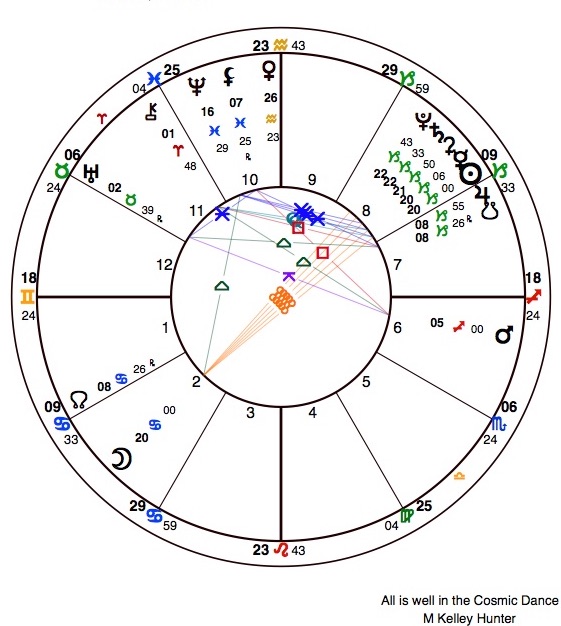 A Triple Whammy
This subtle January 10-11 penumbral Eclipse of the Full Moon in Cancer is not notable or dramatic in astronomical terms, except as the follow-up to the December 26 "Ring of Fire" Solar Eclipse. Yet is quite notable and highly dramatic in astrological terms, with a powerful alignment of planets accompanying the Sun in the opposite sign of Capricorn.

As if anticipating this eclipse moment, Uranus, the Wild Card Game Changer, immediately turns to direct motionand moves the revolutionary/evolutionary energy of our times forward.
On the 12th, Saturn exactly aligns with Plutofor the first time since 1982 in a joining of two power players in the solar system.
This is quite a weekend coming up.
There is so much to say about this three-day period, and much has been/ is being said and written by many astrologers. I encourage you to listen to various perspectives. I will be talking more about it on my Cosmic Inspiration Radio show on Thursday, January 9 and invite you to tune in either live or after (see below). I started the discussion last week, so listen to the January 2 show as well for extra coverage.
The Moon in Cancer is at the North Node, the growth point of this eclipse.The complex stellium in Capricorn is at the South Node, the emergence of what has come before.We are dealing with situations from the past that cannot continue in their current form, so says the urgent, rigorous, no-fooling-around pair of Saturn and Pluto, exact on the 12th for the first time in almost 38 years. This particular meeting has not occurred in Capricorn for hundreds of years. The one I came up with was November 8, 549 in late Capricorn, very close to where this one is happening. Does anyone remember what was happening at that time? Lots of Visigoths around. I'll leave you to research that if you are interested.
Jupiter is also in Capricorn now, conjunct the South Node on this eclipse, coming through strong and productively. The three power planets in Capricorn, Jupiter, Saturn and Pluto, will be dancing with each other through the year. An astrologer on Reddit.com interestingly notes that the last time these three were conjuncting in Capricorn was in 1894 BCE! That goes back a long way—to when Babylon was established, he reminds us, which soon grew into a major influential city where King Hammurabi ruled with a supposedly divinely-inspired, revolutionary code of law. "Are we prepared to rewrite the laws of our society to better suit our ever changing socio-economic and political realities?" asks the author, u/raliberti2. "We better be.. because I don't think we have a choice."
[see post]
Vedic Astrologer James Kelleher offers useful perspectives on Saturn, strong in its own sign:
"When Saturn is behaving itself, it produces a sense of responsibility, hard work, productivity, patience, organizational ability, good management, commitment, and the ability to bring things into concrete form. In other words, a positive Saturn helps us to get things done and to make things happen. You could say that Saturn is the best planet for actualizing your desires. In fact, it's the only planet that allows us to get what we want. Every other planet gives a variety of desires, but no other planet, except for Saturn, gives us the ability to make those desires materialize…. Saturn just might help you to make some first rate progress in your life…"—especially with the support of Jupiter, I would add.
Kelleher continues, "Saturn doesn't give you anything for free. Even when it is going to give you something amazing, Saturn makes you work for it….If you put some effort into improving your life in the direction indicated by the transit of Saturn, Saturn will match your effort by giving you extra support and progress in that area. But you have to work at it and be patient."
His popular annual World Predictions is always excellent. His 2020 webinar is in February. Check out his website for more info and articles.
Another Vedic Astrologer, Jagdish Maheshri, gives us somewhat startling insights re Pluto in Capricorn, a planet beyond the classical Vedic pantheon. [Pluto is just starting into Capricorn in the sidereal calendar used by Vedic astrologers; nevertheless we can explore this interpretation in Western astrology as well]:
A "period of material destruction and transformation to a new and very different way of living that would align with our human evolution. The way we have been used to deal with material world will no longer be our norms. Although it's very likely that some of the world business leaders or companies will either become obsolete or transformed into other forms, the material way of living will be greatly influenced by our collective spiritual experiences and subsequent understanding of the world due to Pluto's transformational transit…likely to take us to a new level of material living where the norms solely based on spiritual experiences will dictate and guide our lives with a new level of material world understanding…
Pluto is a planet of transformation. The process is irreversible and very subtle. The old must die for the new to be born."
see more of his work
So this January 12 Saturn-Pluto conjunction is huge, and is the laser-focused hub of the complex combination in Capricorn on this eclipse. And we have more celestial influence and help on hand:

Mercury @20 Capr closely conjuncts Sun @20 Capr(2020 again!), conveying information and new developments directly from the life force. What is your inner perception telling you about 2020 for you?

Ceres @21 Capr is deeply involved here. As Earth Mother, she feeds the people, body and soul. She oversees produce, food, natural resources, the common good and wellbeing of the land and all who live upon it. She stands for Natural Law. She takes and demonstrates her authority through this eclipse window and in the new Saturn-Pluto cycle. As we listen to and follow her Natural Law and not our own human-centric idea of it, we can harmoniously reshape our way of living on our ever-abundant planet.

Chariklo @ 24 Capr. This small, ringed centaur object, mythic wife of teacher/healer Chiron, now steps into prominence. Once a river mermaid, she has much natural wisdom of the waters to offer us—kindness, caring, compassion, gurgling laughter and fluid motion. She is a caregiver who knows how to best serve love. I tell her story here.

Especially as Ceres and Chariklo are so deeply embedded in the transformational energies now, you might want to know where your Ceres and Chariklo are located in your chart, so you can tap into your personal connection to them. Contact me.
All of these factors are offering their earthy, practical capacities to the Moon in Cancer. We need them. Be open to receive all of your natural know-how. Capricorn rises to Cancer.

Capricorn, earth = authority, dignity, discipline, capacity, capability, concentration, endurance, sustenance, conditions, considerations, practical, efficient, effective, graphic, shapes, forms, structures, outlines, boundaries, containers, clay, rocks, stones, crystals.

Cancer, water = soothing, feeding, caring, growth, nurturing, gentle, safety, security, comfort, reception, welcoming, homey, nest, family, kinship, tribe, sea shells' music, lily ponds.
Choose and add more words that you find meaningful to this list, to direct your energies in growthful channels.
Uranus turns direct on January 10-11, a few hours after the eclipse. This electric, eccentric wildcard planet is still new in earthy Taurus, where it will be until 2026. It has been retrograde since mid-August, re-zapping changes in motion. Back to 2 degrees Taurus, it is now turning forward, just raring to stir up more revelations, surprising developments and Earth evolution.

Though in some ways, this transformational time might be considered an "all-or-nothing" kind of deal, it doesn't happen all at once. We are moving through the eclipse portal into accelerated change as we find that old ways don't work, yet new opportunities beckon. It's personal and collective.
Amidst the chaos around us, we can each stand tall, let go of old ways of being that no longer 'fit' who we are becoming. We engage our creativity and imagination. A beautiful and brave new world lies ahead. We take this journey together letting Earth and Cosmos support wellbeing, mutual support and joy of life.
"We All Shine On."
Listen to John Lennon with the Plastic Ono Band sing their classic, 'Instant Karma.'
* * * * * * * * * * * *