New Moon Ring of Fire Eclipse @ 0 Cancer 21
June 20, 2020 @ 11:41pm PDT
June 21, 2020 @ 2:41am EDT, 7:41am GDT, 4:41pm AEST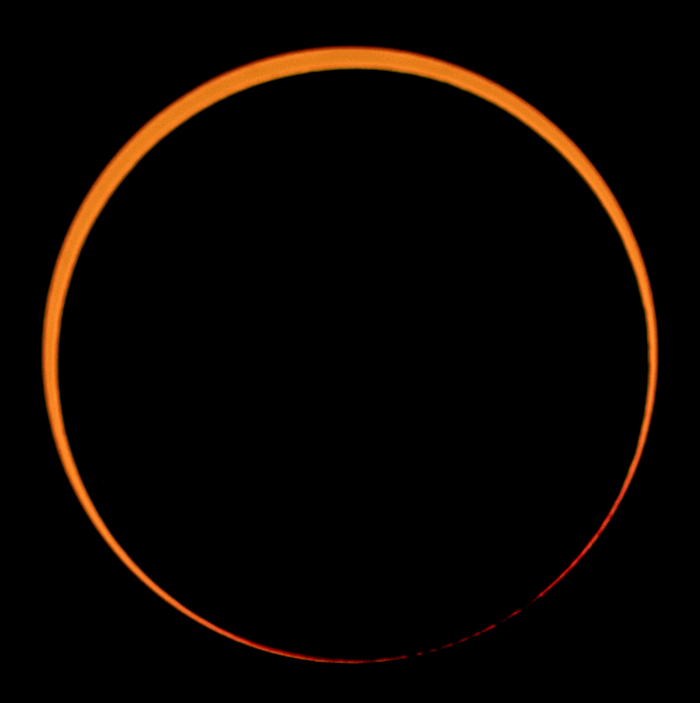 The Solstice Agenda
This awesome Solar Eclipse on a major seasonal turning point is surrounded by a bit of a traffic jam with planets turning backward and forward. Which way are you going? Mercury and Neptune turn retrograde, adding to the already hefty retrograde roster, which includes Jupiter, Pluto, Saturn and Venus. Venus turns forward on June 25th. Say again, which way are you going? Our heads might be spinning a bit, so stand strong and be in the moment.
The Solstice agenda begins a few days early with Mercury turning retrograde. For a week, from June 18-25, both Mercury and Venus are retrograde, an internalizing and introspective time, helping us to process the Solstice impact. The effects of this Solstice Eclipse will ripple out into our experience for the rest of this year, even beyond.
During her May 13-June 25 retrograde cycle, Venus has invited us deep into the secret garden of our hearts. She has changed from Evening Star to the more dynamic Morning Star. You might be able to see her with the sliver of the crescent Moon one of the next two mornings.
June 17-18—Mercury retrograde @ 14 Cancer
Meanwhile Mercury asks us to reflect upon all that has been happening, finding shelter in an oyster shell privacy that protects the lustrous pearl growing inside, the 'Pearl without Price, as it has been called. "Do not throw pearls before swine," advises the Bible. Take heed, take care and circle the wagons; tap into your rootedness, your home base, your safe haven, your hearth fire. This is a private, personal process and tapping a deeper level of safety and security within. The outer world continually shows us that we cannot count on external circumstances.
Mercury turns retrograde @ 14+ degrees Cancer in a power portal alignment with the bright star, Sirius. This degree of the Zodiac, also occupied by the July 4-5 Lunar Eclipse, is aligned with the brilliant star, Sirius, the closest star to our solar system. Sirius was a key star in the Egyptian calendar, with its annual heliacal rising announced both the fertile flooding of the Nile and the new year. Sirius was associated with Isis, the great goddess of renewal. The lore of the Dogon people in Mali, Africa, refers to visitations by star beings from Sirius. Read Tom Robbins' novel, Half Asleep in Frog Pajamas, for his entertaining take on that topic.
Smaller Sirius B is the second star in its binary system. I have heard serious Sirius rumours of travels between our two solar systems. Eight light years distant, it's only a hop, skip and a jump away. Is that your home star? I wonder this about myself sometimes, and I know I'm not the only one.
It looks like Sirius has a few things to communicate to us, both through this Mercury retrograde (which comes back around to 14 degrees Cancer on July 28) and also on the mild July eclipse, the Full Moon peak of this lunation. We are in the Sirius zone, with some Sirius celestial activity going on! Sirius is a hot blue-white star, which can turn up the heat. It can be scorching and also purifying: it will be "a hot time in the old town tonight" for the next month or so.
Mercury retrograde in Cancer suggests hunkering in, reflecting and reviewing what has been is going on in these life-altering, mind-spinning, emotionally-stirring times. How can we detach from some old thinking that is not matching up with our new experience? Where are we being overly subjective, even blind, in how we are perceiving life? There is no going back to the old "normal": that is washing away. In what way might you feel like a plant whose growth has been stunted because the container you are growing in is too small to stretch out and prosper? Time for a roomy redesign.
June 20-21— Solstice/ Solar Eclipse
The Ring of Fire this Solar Eclipse is like a open door, haloed in light. The disk of the Moon is in front of the Sun, but does not completely cover it.
A ring of sunlight surrounds the silhouette of the Moon. We don't need to get scorched, even as we feel the heat or electricity of the energy that invites us through, for the growth that Cancer seeks. Yes, some old thoughts or feelings may be burned away in the process. Cancer has a sentimental streak that tends to hold on to things that have become faded, outdated, even burdensome. If you had to leave home at a moment's notice, what would you grab and go with? It's an interesting exercise to think about, suggests Mercury retrograde.
June 22-23— Neptune retrograde @ 21 Pisces
Neptune has been very active and challenging in the last few lunations, both new and full. Neptune's slow turn retrograde in Pisces is a compatible companion to Mercury's water sign retrograde in Cancer. Neptune's range rises to the spiritual and mystical, compassion and unconditional love, and cascades down multiple octaves to express through inspiration, artistic and psychic vision, and further downward into dysfunction, addiction, confusion, illusion and delusion.
Here is a passage from The Alan Parsons' Project album based on Edgar Allen Poe's Tales of Mystery and Imaginationand his poem "A Dream Within a Dream." It closely conveys a sense of what the combination of Mercury and Neptune turning retrograde might suggest:
"For my own part, I have never had a thought
which I could not set down in words
with even more distinctness than that with which I conceived it.
There is, however, a class of fancies, of exquisite delicacy,
which are not thoughts, and to which, as yet,
I have found it absolutely impossible to adapt language.
These fancies arise in the soul(alas how rarely!),
only at its epochsof most intense tranquility—
when the bodily and mental health are in perfection—
and at those mere points of time
where the confines of the waking world blend with the world of dreams.
And so I captured this fancy, where
'all that we see or seem is but a dream within a dream'."
Enough said. So relevant to current awakening energies. You might want to read this a few times, even read it out loud. Let's be as lucid in our dreaming as we can.
June 24-25— Venus direct @ 5Gemini20
Venus is pulling us through this eclipse, beckoning with the inner treasures we have been discovering during this very special Venusian retrograde cycle in Gemini. (Review other newsletters on my website for more).
On June 19th, she enters the 6th degree (5 degrees+) of Gemini, where she remains through June, as she pirouettes and she turns forward, showing us various views and facets of her crystalline light. More options come into view.
She reminds us to lead with love. She will find us however deep into our hearts we go. Listen to Scottish minstrel Dougie MacLean's song, She Will Find Me, a lovely invocation to Venus retrograde.
Engage Joy all through this Solstice weekend. Ioy is a radiance from the Heart, one of the sweetest flavors of Venusian honey. Savor the taste, let it resonate, and uplift your spirits as the goddess of Love, Beauty and Delight finishes her retrograde in Gemini on June 25th. Not until the end of July does she emerge from her retrograde circle of influence (5 to 22 Gemini). Venus moves into Cancer soon after, on August 7.
June 27— Mars enter Aries
This is a significant change, ramping up the energy into higher gears. Not only because Mars is in its own sign (rah-rah), but also because it digs deep into the fire, turning retrograde and making an extended circle in that sign all the way into January 2021—over 6 months! That is a lot of motivated energy. Along the way we may face some road blocks, frustration, mistaken trails, power plays, opportunities and trigger points. Mars may relish the challenge, going gung-ho in picking up the pace. Let's make sure we are mentally and emotionally prepared. Mercury will be retrograde during the first couple of weeks of this dynamic transit, cautioning us to look before we leap. Make sure that you stay centered and in your integrity whatever you do. Pull out if you find if any initiative does not match for you.
June 29-30— Jupiter/ Pluto conjunction #2 (#1 April 4, #3 Nov 30)
We finish off the month of June with one of this year's three conjunctions of big Jupiter and nuclear Pluto. I call these conjunctions "opportunity zones," with at least a good week on either side. These moments fuel a potent transformational charge that shifts the situation on hand and circumstances at play. Watch for such opportunities in your life, and work them, take charge and stay on it. Results are likely by the end of the year— if you are on the right track. Let Venus continue to present new options from her Gemini kaleidoscope of  possibilities and potentialities. 
June 30— Mercury R conjunct Sun
As an exclamation point to what I wrote in the last paragraph, this special moment in the Mercury retrograde cycle tunes into what we need and can help focus our mental acuity. Mercury is at the closest approach to the Earth. This Mercury Moment offers information that opens our perception.
July 1— Saturn retrogrades back into Capricorn
Well, we got a start on Saturn into Aquarius. How did that go? "Social distancing" is an apt phrase as an optional manifestation of this transit. Not one I want to continue with. How about you? Let's see if we can rework the clay of Capricorn into different, more satisfying and therefore more sustainable outcomes and protocols. The prognosis is good, as Saturn returns to Aquarius around December Solstice, accompanied by Jupiter. This could be good! And takes us into a new 20-year cycle of those two social/ cultural planets.
July 4-5— Lunar Eclipse @ 13-14 Cancer
The Full Moon is the blossoming of the Solstice Ring-of-Fire Eclipse. Interestingly it is the same zodiac point that Mercury turned retrograde. Again we receive an infusion of the bright light of the blue-white star Sirius into our world.
More next time!
* * * * * * * * * * *