February 3, 14 Aquarius-LEO 48, 6:09pm EST, 3:09pm PST, 11:09pm GMT
Image: FLORAL FANTASIA, painting by author.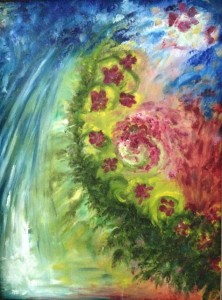 This Leo Full Moon is accompanied by big planet Jupiter, King of the Gods, as well as Regulus, the heart star of the Lion— altogether a lovely sight and benevolent presence in the night sky. This heart-filled, Jupiter-flavored Full Moon channels a particularly potent energy. Glorious, creative, dramatic, even a little over-the-top, let's enjoy the good vibes and opportunities on offer. Plenty of drama will be on show, along with a high party spirit. Start Valentine's Day early. Go for the wild and wonderful, the big and beautiful, along with the sweet and tender.
20th century Broadway diva, Ethel Merman, with her Jupiter in Leo, offers some great musical classics for this Full Moon. Her theme song, "There's No Business Like Show Business" certainly fits (the Oscars are gearing up!), but the best one is "Everything's Coming Up Roses." One of her final performances featured this tune in her inimitable style. Listen at www.youtube.com/watch?v=s62MrU8mHx4
So spirited, encouraging and uplifting—like this Full Moon!  Do get some roses! For someone special (early Valentine's Day)—or for you. Beautify your environment and appreciate yourself. Love starts at home. Many of us dance until dawn.
"Be all you can be," was a 1960s army recruitment slogan that calls to the Leo spirit. Spread the "sunshine of your love," with personal flair. Art and drama are on full display, like a peacock's tail, making a strong cultural impact. This is a special moment to express yourself and play your part in any group or community. Let's demonstrate democracy at its best, where everyone has a voice. Leo is a sign of leadership. We will see great examples stand forth, perhaps in politics, as well as in the arts and social causes. There may be some dramatically bad examples, also, when selfishness is the primary driving force. Generosity of heart is the true name of the game.
The courage of the Lion-hearted gets a boost from Uranus in Aries, sparking new initiatives and a "now or never" sense that time is a'wasting. There is an undercurrent emerging in the collective consciousness along this line as well, stimulating a breakthrough in the grassroots revolution, perhaps a new version of the Occupy movement. What do you stand up for? Pluto challenges our creative leadership capacity to stand simply and honorably, without any frills, to demonstrate the stark outlines of a clear, grounded stance, a clean graphic that coordinates with natural geometries. Can we stand straight and tall and aligned in our biophotonic bodies, resonating with dynamic, invisible infusion of cosmic light?BB[more about this at: photonichuman.weebly.com]
Biologically we are dependent on Earth and Nature, for our very lives and for the awesome beauty that surrounds us when we don't mess it up with control and greed. Addictive patterns expose greediness and helplessness. Can you de-stress and "let the soft animal of your body love what it loves," as poet Mary Oliver so eloquently writes.
We may need to finely tune any overly enthusiastic expressions to be effective and relevant to the situation. It doesn't do to hurt the feelings of others or assume they are going to understand where we are coming from, especially as Mercury is still retrograde. A delicate nuance and subtle sensitivity is best applied. There is a conglomeration of planets in Pisces that suggest a current of kindness and compassion, not that we need to be a martyr to someone else's sorrow. Cosmic wavelengths are infusing our experience as we become increasingly aware that we are all in "this" together, "this" being reality as we know it, or think we know. What do we really know? This Big-Hearted Full Moon offers the wisdom of the most intelligent organ in our bodies, our hearts. Just in time for Valentine's Day!
Let's celebrate an extended Valentine's month, starting on this Full Moon, all the way through the Goddess magic of Friday, the 13th, and the traditional Valentine's Day. Friday the 13th is a lucky day for those who honor the Great Goddess. Don't let old misogynistic superstitions convince you otherwise. Friday is named for Freya, the Norse Venus, and thirteen is the number of Moon cycles in a year. These two astronomical bodies are the strongest personal symbols of the feminine divine.
On Valentine's Day cards we see lots of hearts and roses and winged cherubs with arrows. Those baby cupids hardly convey the primal power of Eros, the true "god" of love and desire. In The Power of Divine Eros: The Illuminating Force of Love in Everyday Life, A.H.Almaas and Karen Johnson share much deeper perspectives that can make us true lovers every day of the year:
"Eros is a god, and the true mission of eros is to bring us to the experience and realization of what real love can be in all its dimensions. Eros shows us how love unifies not only spirit and body, but also desire with selfless giving."
In Greek creation mythology, Eros was the god who arose out of the original chaos with Gaia, Earth. A divine desire to BE manifests into reality.
"Nonexistence is eagerly bubbling in the expectation of being given existence…For the mine and treasure-house of God's making is naught but nonexistence coming into manifestation." —Rumi
When we pierce the veil of illusion, we see how spirit and matter are one. This leads to a level of Self awareness in which we feel ourselves as wonderful, amazing, luminous. While powerfully stripping away our defenses, resistances, limiting beliefs and other obscurations, Eros pierces beyond the false duality in our spiritual and physical experience—and in our relationships between Self and Other. Rumi again:
"Out beyond ideas of wrongdoing and rightdoing, there is a field. I will meet you there. When the soul lies down in that grass, the world is too full to talk about. Ideas, language, even the phrase 'each other' don't make any sense."
And here is another one from the inscrutable Rubaiyat of Omar Khayyam:
"There was a Door to which I found no Key:
There was a Veil past which I could not see:                                                                                                            Some little Talk awhile of ME and THEE                                                                                                                             There seemed—and then no more of THEE and ME."
Or in other, Zen, words:
"First there is a mountain, then there is no mountain, then there is."
Apparently I'm dissolving now into the Piscean influence of poetry, song and image, as well as the scent of roses. Some feelings, like love, have no ample words and seek expression in fuller ways. This Leo Full Moon will stimulate such creativity. Don't hold back. May this Full Moon which leads on to goddess magic and Valentine's Day, infuse us with a feeling that, truly, "Love is a Many-Splendored Thing."
***********************