NEW MOON SOLAR ECLIPSE at 9 TAURUS,
April 28, 11:14pm PDT, April 29, 2:14am EDT, 7:14am GDT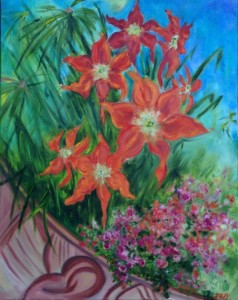 Image: Amaryllis Spring in St. John, oil painting by author.
Has April been one of the most intense, challenging, exciting and enriching months of the year? I hear a chorus of agreement through the ethers!
This solar eclipse gets us down to business to follow up on the momentum of change. Emphasizing pragmatic issues of Taurus, we are asked to question and redefine our definitions of security and what's sustainable in the long run. Though not a total eclipse, it will have its impact, especially under such a literal-minded earth sign. In the push and pull of the Big Change pattern, so strong this past month, we consider: what is worth our investment of time and energy, not to mention money? Let's use our common sense to answer this question. There are hopeful signs that things are going in a good direction, even amidst the chaos and angst, and we'll see more such signs in the next couple of months. Substantial developments are on the road to making a real difference. It's a great New Moon day to celebrate the basic, simple things in life. It doesn't take much, but we do need the essentials: good food, water, shelter, clothing, beauty and companionship. A creative flair makes the simple very special.
For many, financial concerns take center stage, as anything we "plant" now can take hold. We look for the most fertile ground, as former fields of opportunity have dried up. Mars, still retrograde in Libra, continues negotiations, with new terms being discussed under the ripple effects of the eclipse. We are all increasingly impacted by the overarching developments. Slowly but surely, we take concrete steps forward as circumstances inform us about realistic solutions. As we look back on it, this has been a truly amazing month. Some things have clearly changed. Let's appreciating what we have accomplished. We start the month on the beginning of a growth curve, after a Taurus eclipse that has changed the ground beneath our feet, metaphorically and/or literally.
The earth is changing under my feet as I am in the middle of my long-time coming move from the Virgin Islands to Vermont. Therefore, this short, pithy newsletter. For more information, look up the day-by-day descriptions for May at www.monthlyaspectarian.com.
************************************
An ASTRO-SPECIAL is on for Taurus until May 21st, then Gemini. Is it time for an astrological overview of your year, using the special window of your birthday chart along with current planetary cycles? One hour, $120, that's 20% off. This special fee also applies to a birthday gift. Give a Gift of the Stars! I have special cards and e-cards you can use.
The WEBINAR series produced by the Theosophical Society went well, and are now available as downloads. Did you miss the ASTROLOGY & YOUR LOVE LIFE series, or April's OUTER PLANETS & OUR GENERATIONAL AGENDAS? COSMIC NEWS: ASTROLOGICAL OVERVIEW OF 2014 was an especially good webinar that can still be downloaded.
Look them up at:
http://www.theosophical.org/webinars/depth-astrology.
SUGGESTIONS WELCOME for topics you would be interested in for upcoming series in this easy, interactive online format.
How about one on MOON SIGNS?