Image: Sailboats at Klein Bay, watercolor by author.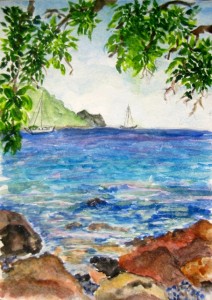 The NEW MOON at 11 SAGITTARIUS,
December 2, 7:22pm EST, 4:22pm PST,
December 3 at 12:22am GMT
shifts December into fast-paced Sagittarian gear. A surge of positive motivation courses through our system on the solar wind in waves of consciousness altering streams of energy. Dreamy Neptune and, more strongly, quantum-shifting Chiron, both influence this intuitive Sagittarian Moon cycle. Vibrational cosmic fluff from Neptune induces a state of reverie which lingers through the first week of the month. We can easily be lost in Memories, Dreams, Reflections (as Carl Jung titled his autobiography), as well as fantasies, visions, meditations, prayers and musings. These reveries can take us down strange roads, into space-time variations, past life recall, future potentials. They may reverberate with reverence. Some of us may be in a low energy state and otherwise occupied, wasting time and feeling discouraged or wanting to be elsewhere. Others ride a current of inspiration, tuning in to a level of excitement and possibility, with focused attention that gets a lot done. Which wavelength are you on?
No need to feel stuck. We can switch the channel and change our tune even more easily after Mercury moves into Sagittarius on December 4-5. After weeks of deep, dark, often muddy Scorpio waters with bedrock-exposing layers of letting go, energies light up with increasing motivation and enthusiasm. We are likely to continue in a greater or lesser state of reverie, as if picking up on messages coming in from inner and outer space. Give some time to listen in. Rich ancient wisdom comes in on the cosmic tide and solar wind to clear our vision and set our sights. Going with the flow is the only way we can go. Let's set our hearts in the best direction and raise our sails (a la the Christopher Cross classic song):
"Well it's not far back to sanity, at least it's not for me
And if the wind is right you can sail away and find serenity
Sailing takes me away to where I've always heard it could be
Just a dream and the wind to carry me
And soon I will be free…"
Chiron, the Shaman, introduces a game-changing input. Engage your active imagination. Inspiration strikes like lightning. As the Sun changes magnetic polarity, it sends powerful electromagnetic currents into our system. We are necessarily affected. Many of us feel a rare portal of change or healing, a critical turning point. It is as if we are crossing a bridge. We are not where we were and not yet where we are going. We can take full advantage by imagining out-of-the-box possibilities. Inventive Uranus surprises us with exciting possibilities, adding out-of-the-blue to out-of-the-box. We often react with upset and anxiety in the face of change, yet it can be so incredibly thrilling when we trust and co-create with the Divine.
Adventure beckons. We surf and dance along the shimmering, sparkling river of the Milky Way, along an extraordinary threshold, gazing into the deep Mystery, engaging in a process of renewing our relationship with the Divine. This is a moment-by-moment experience, fulfilled when fully embodied.
"Well, it's not far down to paradise, at least it's not for me
And if the wind is right you can sail away and find tranquility…
It's not far to never-never land, no reason to pretend
And if the wind is right you can find the joy of innocence again.
Sailing takes me away to where I've always heard it could be…"
Mars enters Libra on the 6th, where it makes an extended stay through next July, suggesting extended negotiations on personal and global levels. Polarized points of view may ignite arguments, anger, even violence. Let's find a way to talk things out and really listen to the other point of view. We may not be as far apart as we think. Every polarity is resolved on a higher level. During these many months, some partnerships begin as others come to an end. It is not easy to make decisions, as we can rationalize any preference. When we get right down to it, we make a basic choice in each moment: to stay on this old, fearful wavelength or to allow ourselves to be guided by the wild Divine.
Find your still point and your balance. Be present in the moment rather than looking too far ahead. By taking one step at a time, feeling the ground solid beneath us, we won't trip over our own two feet. And we will notice cosmic clues, like feathers and lucky pennies on our path, indicating the best direction to fulfill our dreams. Remember what the shamans say, "The world is as we dream it." Keep your vision positive and life enhancing. Together we are creating a shared vision of the new world that we want to live in. As poet Robert Frost wrote:
"Two roads diverged in a wood, and I—
I took the one less traveled by,
And that has made all the difference."
OF NOTE:
I'm delighted to welcome more new readers!
I keep COSMIC NEWS going with the help of contributions.
I usually ask for contributions as the calendar year is changing.
My website link to paypal is now working:
You can also send checks to me at:
844 Bayne-Comolli Rd.
East Calais, VT 05650
I appreciate it!
My new book, COSMIC DAILY WEATHER 2014, will be out very soon. It was quite an interesting process of intuitive research to write Cosmic News-type interpretations on a monthly and daily basis for this coming new year so full of potential. I will be making a special announcement soon!
COSMIC NEWS WEBINARS!
Keep up with the Cosmic News for 2014!
Monthly & Weekly Webinars for all levels of astrological knowledge
offered through the Theosophical Society of America.
The first one is:
COSMIC NEWS: ASTROLOGICAL OVERVIEW OF 2014
Wednesday, JANUARY 15, 9pm EST, 8pm CST, 7pm MST, 6pm PST
What can we expect in the coming New Year? Dynamic planetary patterns indicate a crossroads year with a heightened level of world-changing intensity. Kelley will give a month-by-month overview, mentioning hot spots to put on your calendar. A special focus will be the ongoing, transformational Uranus-Pluto Square, a rare dynamic that brings us to the next level of the unforgettable decade of the 1960s. We are in the peak of this major pattern from 2012-2015, with a strong spike in 2014 as several other planets join in the action. We'll take a special look at powerful New Moon and the Venus retrograde cycle that open the New Year. The Void of Course Moon will also be introduced as a factor to pay attention to for daily planning.
Watch for further Monthly Cosmic News webinars
on timely topics followed each month by a
Weekly Class Series for interactive discussion, planet by planet.
We will discuss the meaning and current activity of the each planet and relate it to our own charts placements.