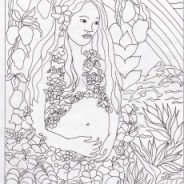 Image: Illustration of HAUMEA in PLANETARY GODS AND GODDESSES COLORING BOOK, by author. [See book section.] HAUMEA, the Hawaiian goddess of fertility and childbirth, has given her name to a distant dwarf planet beyond Pluto, discovered in 2003. It has two moons, named for two of her daughters—sea goddess Namaka, and Hi'iaka, goddess of the hula dance. Another of her daughters is Pele, the volcanic fire goddess. Mother of all creatures, Haumea is ever pregnant, taking time to renew herself after each birth. She reminds us to give pause...
read more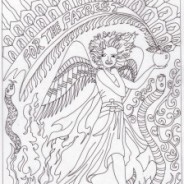 ERIS is a mythic troublemaker, she who threw a golden apple into a party on Olympus. It had a tag that read, "For the Fairest," starting a contest between the goddesses that no god was going to touch. They tapped an upright young man named Paris.  Juno promised him a kingdom and Athena great wisdom, but, inevitably, Paris awarded the apple to Aphrodite, who offered to bring him the most beautiful woman in the world, Helen of Troy. This famous "Judgment of Paris" led to the Trojan War. Eris is out and about these days...
read more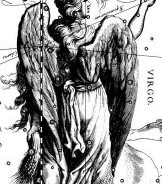 VIRGO is one of the few female constellations in the sky. She carries a sheaf of wheat, Nature's bounty—rather like our own Vermont goddess, Ceres, on the Capitol's golden dome. Often "The Virgin" is pictured with wings, suggesting angelic stature. In former times, "virgin" meant "belonging to herself," rather than referring to sexual status. It is said that in the distant Golden Age, Goddess Virgo once lived on Earth among us. As humanity became increasing ignorant and corrupt, and pollution...
read more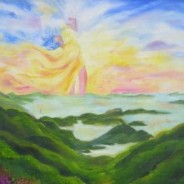 An exploration of three essential aspects of feminine consciousness, for 8-10 women. 5-week class, given online and in-person. Email me for current schedule. *Moon Matters *Venus Heart Intelligence *Lilith: Black Moon Mysteries We make this material more personal using our birth charts. This material explains much about your woman experience, relationship life and mysterious inner stirrings. For those feeling the consciousness shift and arising of the feminine divine. Session 1 The Gateway: introductions, overview of the material. Session 2 ...
read more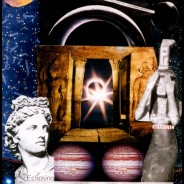 I was not in very good shape as I headed to the Big Apple. I had a migraine coming on so strong I felt nauseous. I had been on the go for a week, continuing now on will power and desire. I wanted to do this. I was in minor panic; performing in NYC was daunting. Mary, who had invited me to be in the performance, had never seen my work. We were going on sheer trust. I found the downtown studio on First Ave. and went up its labyrinth. The musicians were rehearsing. When I heard Mary's song, "Storm Wind," I knew why I was...
read more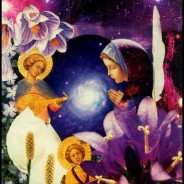 You wonder: Who am I coming at you like your shadow? Like a bird in flight in the dark of the night I am the first and the last. I am the honoured one and the scorned one. I am the whore, and the holy one. I am the substance and the one who has no substance. (2) I am she that looketh forth as the morning, fair as the moon, clear as the sun and terrible as an army with banners. (1) I sleep on the earth and I dance in the trees. I lie on the sands and I fly on the breeze. I walk in the sun and I drink with the bees. I sing with the rocks and I...
read more
Lilith has given her name to several astronomical entities of very different natures. There are three, even four, Liliths. Thus she demonstrates the nature of the triple goddess, and adds a fourth dimension. Asteroid Lilith Black Moon Lilith Lilith Star Trinity of Lilith Asteroid Lilith One Lilith is an asteroid, number 1181, orbiting with most of the other asteroids between Mars and Jupiter. The asteroids, considered fragments of a one-time planetary body, are facets of a larger whole. The asteroid belt is a thicket of archetypal material....
read more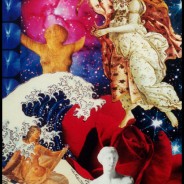 Lilith Consultations Mine eyes gleam on thee, lit with an alien light. My lips proclaim mysteries. –George Sterling, Lilith It is out of deep experience that language is reborn. This rebirth occurs through the generation of new images, for images are closer to our experience than words. Images are the midwives between experience and language. A mystical awakening will entail an awakening of the power of images to heal, to name, to excite, to teach. -Matthew Fox For tapping into deep mystical layers of our awareness, the...
read more